Music Reviews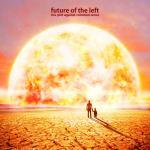 Future of the Left The Plot Against Common Sense
(Xtra Mile)

First things first: yes, that's the cover of the new Future of the Left record. No, I don't know what the hell's going on – other than the fact that seems to have a penguin on it, it's the sort of thing even Muse or Biffy Clyro would turn their fucking noses up at. It's so bad it may have fostered misgivings that Falco & co. might have lost the plot a bit, but don't worry, Future of the Left are still making reliably cynical, witty, and occasionally catchy post-hardcore on their third album.
This time round they've been joined by guitarist Jimmy Watkins, and former Million Dead bassist Julia Ruzicka, who gives the record its backbone, with arresting, distorted riffs (especially on the pounding Beneath the Waves an Ocean and Rubber Animals), making this at times the rawest FotL material to date. On Failed Olympic Bid, as though being challenged to make the song's industrial squeals even more chaotic, she clatters in with brilliantly unhinged blasts of grit. Plus the synths are back, adding another layer to FotL's versatility, and always working ideally along with their pedal-laden guitar work. But amidst the abrasion, there are nods to a pop sensibility too – Goals in Slow Motion in particular is glorious, if lyrically inscrutable, with a satisfying harmonised chorus and an anthemic finale.
The Plot Against Common Sense is an apt title for a record that's about, allowing for characteristic indirectness, modern Britain's broadly shared ignorance. It's about a generation for whom Russell Brand is a modern Prometheus (Notes On Achieving Orbit), who were too stupid to join in on last year's riots (Sorry Dad, I Was Late for the Riots), who rely upon ocean dumping for their synthetic disposables (Polymers are Forever), and who think that "no one will care if you throw bottles in your neighbour's garden twice a week" (Anchor). As ever, Future of the Left are staunchly anti-everything, which comes across as the most convincingly honest stance to take. And it's telling that my favourite song on the album is also the silliest: I don't want to spoil the jokes in Robocop 4: Fuck Off Robocop but it's simply some of Falco's funniest writing; you never know if it's a set of daft cheap shots (Billy Corgan, Pirates of the Caribbean 47, Michael Bay) or a scathing tirade against the state of the film industry, and it couldn't have been produced by any other band.
But it's got to be the most eminently quotable track on the album, as the whole thing passed me by a couple of times without leaving a strong impression, which weird considering I tend to think of Falco as the Malcolm Tucker of alternative rock. Falco is, at his best, a singer whose incomparable lyrics and delivery will get lodged in your brain like no one else, and nowhere was this more evident on FotL's 2010 LP Travels with Myself and Another. On The Plot Against Common Sense, he is stretching himself more than ever in terms of vocal styles (to my occasional chagrin; cf Camp Cappuccino's mouth-full smirks), though his favourite gear as ever is his vitriolic snarl – and yet he just can't seem to drive as many lyrics home like he used to.
It's not customary for FotL to release a "grower" like this, which is perhaps the result of (arguably wisely) obscuring the comedy angle of their work somewhat. It could do with one or two songs being trimmed, but there's enough variety to keep things engaging, if at times it lacks incisiveness. Still, my criticisms are largely comparing the band to their past work, which happens to be exceptional. On the other hand, their developments prove (if proof is still needed) that Future of the Left have outgrown the shadow of Mclusky, and although it's not as memorable as it should be, it still burns with the band's unique misanthropy.
7 June, 2012 - 12:08 — Stephen Wragg