Music Reviews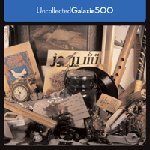 Galaxie 500 Uncollected
(Rykodisc)

What's in a name? Galaxie 500 sound like the kind of outfit that Daft Punk discover and who produce post-ironic electro-disco. In fact, they're a marvellous late 80s indie outfit, an embodiment of the alternative scene in its vibrant and youthful days. Largely undiscovered in their day, this enigmatic, slightly arty Boston/NYC combo is steadily gaining recognition for an important contribution to the development of the 90s alternative scene on both sides of the Atlantic.
Naomi Yang, Damon Krukowski and New Zealander Dean Wareham met at high school in NYC, and in 1981 Dean and Damon went to Harvard, where they formed a rather amateurish punk outfit, playing noisy covers to other college students. Naomi joined them within the ivory towers the year after, becoming the band's artistic advisor. After college, Wareham and Krukowski decided to form a "proper band", and after failing to recruit a suitable bassist through the Village Voice's small ads eventually accepted the offer from Yang, a non-bass player, to try out on the four-string. After spending much of 1987 demo-ing and practicing, the trio adopted the name Galaxie 500, after a 1960s Ford, and started gigging in clubs once back at Cambridge, MA. After hooking up with producer Kramer, the three-piece released the single Tugboat in 1988 to the delight of local critics. To a base of primitive drumming, fuzzy guitars and hypnotic, reedy vocals, Kramer added reverb and layering to create the distinctively dreamy, distant sound that marks out Galaxie 500. Their sound is like a bubble bath laced with the juice of My Bloody Valentine and the Cocteau Twins. Their debut album, Today, stretched their oneiric formula over forty five minutes to wonderful, melancholy effect, and the drone-plus formula earned praise from no less that Thurston Moore as the "guitar record of 1988".
By '89, Galaxie's stock was rising, in particular in the UK, where their sound tapped into a taste for shoegazing indie, exemplified by Ride and early-to-mid Stone Roses. Second LP On Fire and UK-only release EP Blue Thunder, both for Rough Trade, showcased their increasing technical competence, in fact an asset to a tighter, structurally more powerful sound. It's worth bearing in mind just how indie the gang were, as until the gap between the second LP and their final cut, This Is Our Music, Damon and Naomi weren't full-time musicians, in fact combining musical duties with postgrad studies. Touring Europe they harvested glowing reviews, before returning to the States to record ...Music in 1990, working with Kramer again. Rave reviews followed for this pitch-perfect collection of sparkling originals and inspired covers, along with full-scale tours of the US and the Euro festival scene, supporting the Cocteau Twins. Inexplicably though, Wareham then decided to quit their band, rather unexpectedly ending a group seemingly poised for fame. Since then he's performed with Luna, while Yang and Krukowski have worked together as Damon and Naomi and with Magic Hour. Nevertheless, it's their work as Galaxie 500 that will be most fondly remembered by many, for its crafted sweetness and sadness.
Uncollected is a collection of rarities and b-sides, originally part of a box-set from 1997 that is now something of a collector's item. It includes alternative takes from various album sessions, such as a cover of the Rutles' idiosyncratic Cheese and Onions and the Beatles' Rain. Also featured are minor classics Blue Thunder and The Other Side, dulcet dirges that foresaw the slowcore movement of the 1990s. For fans unable to get hold of the box-set, it's an important jigsaw piece for their collection, but for the uninitiated it's a fine introduction to a band that deserves to be remembered.
10 October, 2004 - 23:00 — Ben Bollig