Music Reviews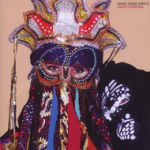 Gang Gang Dance Saint Dymphna
(Warp)

Until recently Gang Gang Dance was just another name playing vaguely on my musical radar, another one that I was either too busy or too distracted to investigate further. The urge to get involved hit on the back of an enthusiastic recommendation in my local record shop and that was that. I certainly haven't enjoyed losing myself to a record with such blissful abandon for a long while and there have only been a couple of releases this year that have even come close to generating similar levels of pure emotion. This record seems to have had a strange effect on me too; when I listen to Saint Dymphna I feel like a madly lustful lunatic, losing possession of his senses in an epiphany initiated by the simultaneous massage of mind and body in the just the right spot at just the right time. Sound good? You better believe it.

Firstly, be warned that this is no pick-up-at-will record. Even listening to tracks individually generates guilt, like flirting with another young lady behind your girlfriend's back - you know you shouldn't but you just can't resist. Saint Dymphna is one of those rare albums that invites you on a journey, but before you shout 'Prog!' and run away in the opposite direction be assured this is music devoid of cliché and overstated, quasi-conceptual bullshit. It's startlingly original and deliciously daring in scope, yet still manages to convey just the right amount of raw and unpolished grit inside a happy heart that keeps itself tantalisingly out of reach.

First Communion introduces the feral vocals of Liz Bougatsos to ethereal effect, driven by a funky fuzz-bass riff and coated in wide-eyed synths that push for the stars in the final bars. Vacuum could be Boards of Canada covering My Bloody Valentine, its clear and drifting melodies soaked in Ulrich Schnauss-style thick warm pads. Conversely the sound is quite minimal in places, but from within these bare-bones elements a realised vision generally emerges to challenge your expectations whilst always moving the song forward - grime posterboy Tinchy Stryder's fiery turn on Princes is truly exciting stuff.

Taken as a whole, the record leads you through a variety of moods and emotions over its forty-four minute duration. Underpinned by an obvious respect for the beatific eccentricities of contemporary dance culture, Gang Gang Dance here succeed in distilling aspects of minimal techno, deep house, hip-hop, tribal drums and progressive psychedelia into something entirely their own. Indeed, on first listen the sound is so perfectly 'out there', it will take your mind some time to catch up.

As tasteful and alluring as it is experimental, its also extremely well constructed. On first listen, the instant fix feels as bewildering and exciting as is actually possible, your brain rapidly trying to make sense of something fresh and challenging. Thankfully the band make it easy for listeners to appreciate by stitching together a number of sublime 'moments' during tracks, which have a cheeky tendency to flash by like alzheimer memories, strung together in such a fashion that one supersedes the last in your mind, making repeated listening a rewarding necessity.

Standout track Desert Storm feels like the culmination of the band's efforts over the course of the record, using raw almost unintelligible lyrics to focus the tension built by the dive-bomb bass and rapid-fire drums. The song swoops and pulls back only to explode joyfully as it ends. It's the single most thrilling piece of music I have heard in years. Indeed, across the record Bougatsos' vocals push the music to new heights of emotion then drift off into space and let another element take the fore. That this is all done with such apparent ease within a natural sense of flow is honestly jaw-dropping. Compositions may appear simple on the surface, but (as with the album as a whole) its the many underlying intricacies that by turns beguile and amaze.

Saint Dymphna is truly Gang Gang Dance and no-one else and for that they should be applauded; creating and defining your own sound is a challenge these days that many bands prefer to shirk. To then use that sound as the basis for an album of consistently memorable, clever and overtly danceable music is rarer still and as a music fan makes me immeasurably happy. Spend your money on this people, it sounds like the future.

15 January, 2009 - 17:05 — Jody White