Music Reviews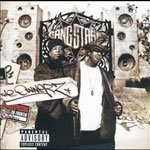 Gang Starr The Ownerz
(Virgin)
Buy it from Insound

Guru (Gifted Unlimited Rhymes Universal) and Premier aka Gang Starr have returned to save the stagnant kiddieland world of hip hop with new material guaranteed to temporarily stop the bleeding currently oozing through your car radio speakers, wack-ass market-saturated hip hop where anything less than multi-platinum status is deemed a failure. The Ownerz is a hip hop gem and includes some of the best work the duo have dropped in almost a decade, just another hot record in their 16+ years in the infinitely fickle rap industry.
Gang Starr fiends were offered a taste seven months back when Eminem's 8 Mile soundtrack dropped, which included the previously unreleased Battlez, a booming testament to the duo's longevity, with Guru barking up a storm atop DJ Premier's bellowing horns and chop-socky cuts in the break, scratching up vintage Milk Dee of Audio Two howling "What? You wanna battle me? Man, how much money you got?" And with that hook the old-timers are hooked, with Guru's monotone deftly adapting to his post-90's surroundings, you begin to understand what so many have continued to sleep on.
"The certain formulas" in Guru's off-handed chat that opens the previous 1999 certified gold release Moment of Truth refers to the stalwart rhyme veteran and his legendary producer simply doing what he knows best - masterful hip hop records. Check out Prince Paul's latest masterpiece Politics of the Business, where Guru spews disdain for the insider industry politics on Ain't Tryin' to Hear That, no doubt pent up since his days as a struggling Boston lyricist and since followed him throughout his career as a perennial, gifted wordsmith via the planet of Brooklyn, and has yet to see a platinum plaque adorn his walls. And his legendary NYC producer/DJ Premier spits an angry, radio-related acapella not only on Paul's album but on the Brooklyn-via-Boston duo's latest effort; "That's some faggot bitch shit y'all are listening to, all you DJ's are letting the program directors handcuff you - you fuckin' robots, fuck y'all," Premier fumes over the phone, serving as the intro to Peace of Mine, just one of a dozen hot tracks from The Ownerz, an album undoubtedly well worth the four-year wait.
Put Up or Shut Up opens the album with a retro-Shaft bassline, a simple beat that coolly coincides with the Guru's patented monotone flow. The Ownerz has already spawned a few radio-ready singles, with the smooth and catchy Skills and the bouncy, off-kilter piano loops on Rite Where You Stand featuring former P. Diddy minion Jadakiss, who has since bloomed as the last man standing in the Ruff Ryders camp. And on Deadly Habitz Guru quips firsthand about the shady record biz, chock full of "managers coked-up and A&R's doped-up." And although chickenhead tracks such as Nice Girl Wrong Place (and a needless 90-second dick skit called Hiney) don't hold up to classic Gang Starr cuts like Ex-Girl to Next Girl and Lovesick, neck breaker tracks like Riot Akt, Zonin' and the sinister beats on Sabotage more than make up for any momentary slip-ups. Fat Joe and Snoop Dogg drop verse, as well as underground icons M.O.P and Freddie Foxxx. Bonus tracks closing out The Ownerz include rare interviews as well as live performances of Skills and Full Clip.
B-Boys, backpackers and retarded rap-radio patrons all need to act like a doughnut and cop that immediately.
14 July, 2003 - 23:00 — Chris Conti