Music Reviews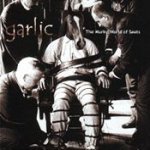 Garlic The Murky World Of Seats
(Bella Union)

Quirky, left of centre... No, don't go yet! Yes you've heard these words before and they usually translate as "No songs, shit", but this is an exception. If you can, try to imagine Lou Reed singing Pavement songs, being joined occasionally by Neil Young and Grandaddy. That would be a fair approximation of Garlic and their Alt. American rock strangeness. Oh, and don't forget to throw in the slide guitar too.
The Murky World Of Seats is an album of hidden gems and refreshingly inventive twists and turns, but always retaining a skewed sense of melody. It even has a "hit" single, in the shape of Slave To The Summer, Son, if only it was played on the radio more, then maybe it would be a bona fide hit, rather than the dreaded "cult" variety. The final and most surprising twist comes close to the end, with Not Over Yet. If any of you are house heads, then you will have heard the track whilst being beaten by the bass at any half decent club. The song here is a drastically different version to the one that Paul Oakenfold is credited (although greatly exaggerated) as a co-writer.
So an intriguing story, with a twisted soundtrack and a curious future, we need more character in our music today and Garlic have many of those necessary ingredients.
26 September, 2002 - 23:00 — Mark Mason