Music Reviews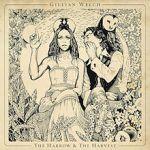 Gillian Welch The Harrow & the Harvest
(Acony)

Judging by the excited postings of fans on her website, this new album by American roots/folk songwriter Gillian Welch, her first since 2003's Soul Journey, has been keenly anticipated. And they have been rewarded by a soulful, dark, lyrical album that touches on familiar themes – temptation, tragedy and loss.
With songwriting partner David Rawlings, Welch presents 10 tracks that are stripped down instrumentally, most songs relying solely on their acoustic guitars ornamented by Rawlings' sublime fingerpicking. Rawlings also provides the vocal harmonies, his voice just sitting under Welch's, and together they sinuously weave themselves around the guitar melodies. Recorded on analogue tape, these numbers offer an intimate and cohesive experience for the listener.
There's a sadness that pervades the album, 10 types of sadness according to Rawlings, but listeners may find it strangely uplifting. On Dark Turn of Mind Welch knowingly sings "Some girls are as bright as the morning, and some are blessed with a dark turn of mind" which captures the album and Welch succinctly. For all of her tales of loss and fate, Welch regards them with an unsentimental eye. "I can't say your name without a crow flying by" she sings on The Way it Will Be, and on the last track The Way the Whole Thing Ends she coolly regards her ex-lover: "here you come alone and cryin'/once you used to be my friend/that's the way the cornbread crumbles/that's the way the whole thing ends".
The beat picks up in The Way It Goes, a backwoods tale of misery that wouldn't be out of place on Nick Cave's Murder Ballads. Religion and the church are an occasional presence on the record, reflecting perhaps the times and places she writes of rather than her own convictions. Her characters spurn the conventions of church ("I'm through with bibles, I'm through with fools") preferring the comfort of whiskey, music and men. Welch lives and breathes these songs, and the longing in Down Along the Dixie Line is a real heartbreaker, silent on what has led to exile of the narrator.
A fully conceived album of beautifully crafted songs, and a real treat for fans and newcomers alike.
16 August, 2011 - 09:07 — Pierce Brown