Music Reviews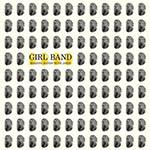 Girl Band Holding Hands With Jamie
(Rough Trade)

Not too long ago, following another rather sad display of desperation and mediocrity known as the MTV Video Music Awards, Rolling Stone pulled together a quick recap of the event's ups and downs and questioned per bullet point number two: Where was the rock? The article noted that the only real guitar-oriented song awarded that evening went to Fall Out Boy's Uma Thurman before the event was even broadcast, which offered indication that mainstream rock n' roll in 2015 is mostly irrelevant.
Personally, I just think the guitar has returned to where it sounds most necessary, beneath the sheen of sterile and super-sleek pop tones, which provide fodder for the streaming/playlist demo. I say this because I've heard a good amount of guitar-driven rock music in 2015 and it's sounded to me as vital as ever, seemingly in the process of undoing its association with much of the self-important posturing of 90s Alterna-whatever and the derivative garage Velvets worship of the 00s. And I also heard Holding Hands With Jamie, the debut LP from Girl Band, a Dublin four-piece fully invested in generating some discomfort. Let me rephrase: WELCOME discomfort.
Holding Hands With Jamie is absolutely the culmination of everything you've heard in post-punk and independent and/or modern rock music over the last thirty years, but it's seemed to be so frustratingly hard to label for some. To me, that's the sign of forward motion. There's no nostalgia or lazy reliance on a tried-and-true template wrung dry of its purpose thanks to years of thoughtless re-appropriation. From the first icy notes plucked during Umbongo to the tom-heavy crunch of The Witch Doctor, Girl Band commit to a signature, one familiar enough to derive influences but not so obvious as to create a solid compendium of go-to comparisons. (From some reviews, I read Bleach-era Nirvana. I couldn't disagree more.)
Following a number of singles and EPs, most notable being the band's 2012 EP, France 98, Holding Hands With Jamie is restless with discordant, propulsive and, oftentimes, nervous energy, a vomit-inducing seesaw of atonal plentitude. The dizzying bass strokes of Paul certainly points to this, bassist Daniel Fox strumming as if standing on a rocking ship as vocalist Dara Kiely delivers his words with an air of insolence. The tension is allowed to build, resultant in an onslaught of rhythmic bounce and an unexpected wall of high-frequency dissonance.
For Girl Band, I think of their noise progressions as time signatures, those transitions into newly fracturing anti-musical ideas using introductory song structures as a launch pad for other ways to layer noise or just buzz heavily. This album is perpetual crescendo demonstrated and rich with "loud." Even at its most repetitious, as with the steady pulse of Pears For Lunch, there's enough to absorb sonically that you're not left with some monotonous loop of endless sounds. For Baloo, a metronomic pace beneath, the band hits some industrial strides layering percussive elements and experiments with an incongruous array of instrumental abstraction. You could almost dance to it. And then for In Plastic, swells of ethereal howl answer each other overtop a solid bass riff, a hybridized shoegaze/waltz as obscured in the haze as it is rhythmically appealing. The rapid paced and abrupt The Last Riddler is followed by Texting an Alien, a spoken word piece dressed up by some of the more melodic playing from guitarist Alan Duggan.
The album's longest offering, Fucking Butter, functions structurally like cut-n-paste stream of consciousness, an excited and erratic mess of guitar sounds and feedback that almost take on the "all in" characteristics of Scott Walker's Bisch Bosch, Kiely's verses non-stop as Adam Faulkner's drum kit conducts the arrangement. There's a seamless transition into disco rhythm. A guitar pick travels across the strings, harmonic notes create an expanse. The track is both mesmerizing and difficult.
With The Witch Doctor, there's a final rush of drums and impolite guitar that finish up Holding Hands With Jamie with the same amount of stress and persistence as it had at its beginning. While there's little time for relief, Girl Band's debut brilliantly configures its lapses of activity into moments of calm, (as few as those are), which helps enhance its louder ones. The finale isn't particularly grand, but Holding Hands With Jamie does much to harness the passion of "left of the dial" indie rock while paying attention to now, eschewing accessibility and melody for the sake of finding something aurally distinct. So, I'm okay with MTV's dismissal of rock music in 2015, so long as albums like this wind up a side effect.
16 October, 2015 - 04:30 — Sean Caldwell