Music Reviews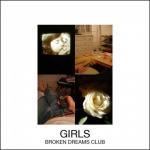 Girls Broken Dreams Club EP
(True Panther Sounds)

Girls' new EP opens with familiar guitars and heralding trumpets, trumpets that suggest to me the undecided, trumpets that ask 'what sort of record should this be?' If you hadn't yet worked out the answer from its title, the next couple of lines should do it: Christopher Owens whispers ominously "Oh little girl they just don't know / about the weight you carry in your soul". This, I reckon, is going to get heavy.
There's a jaunt to this fine opening track, The Oh So Protective One, which is typical of much of Girls' produce. They have an unnatural ability to create tracks that are ambient and un-imposingly immediate to the ear. But these same songs, once heard a little closer, are filled with lyrics of heart-wrenching honesty and sincerity, with lines that detail a brutal picture of the human condition at its lowest. For example, heartbreak, it will come as no surprise, is the theme of Heartbreaker, and it quickly reaches a numbing realization: "When I look in the mirror now I'm not as young as I used to be / I'm not as young as I used to be / I'm not as beautiful as when you were next to me".
Broken Dreams Club follows and steps even further into Owens' mind, it despairs about the war, poverty and pain, culminating in the line "But I just don't understand / how the world keeps going nowhere", his tone all confusion and hopelessness. The trumpets that began Broken Dreams Club return, now just a soloist, no longer undecided, but lonely and mournful.
This descent into sadness is not something we haven't seen before with Girls: their first LP Album was brimming with these kinds of songs, and that's why by the time we reach Alright it begins to feel a little indulgent and predictable. The song eventually peters out, with its last two and a half minutes becoming an excessive instrumental of their loose strumming, dulled trumpets and the odd Spanish riff.
The next line is a wonderful dismissal of these fears, a message of hope as the listener is reassured that "It doesn't have to be this way". While this optimism is real we soon learn what he means: "If you want to shape your brain / I know a substance / which gets rid of everything / and helps you rock and roll" This might be dark but in fact it's as honest as anything that's gone before – Owens is no drug dealing serpent in this situation, there's no trickery here, just an offer of help and to feel "nothing". Given the pain that's gone before this sounds undeniably tempting.
Another even heftier instrumental slowly unwraps the final track, Carolina; just as you begin to drift off, however, there are murmurings among the arrangements. What suddenly springs to life from this are triumphant declarations of love and returning home. This is as joyful as this EP gets, featuring jumping guitar riffs and more expansive vocals; it's a well deserved and comforting respite from the cold and an admirable way to end such a bleak record.
EPs are difficult things to get right: they cannot just be amalgamations of the surplus material from the last record, and they increasingly need a subject and structure, arguably even more so than LPs. This is demonstrated well on Broken Dreams Club; and though at times parts feel redundant and unnecessary, mostly it is simply an impressively touching and intensely human affair – right now, it seems, nobody does melancholy quite like Girls.
18 November, 2010 - 16:51 — Joe Iliff