Music Reviews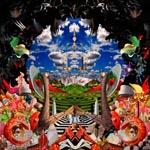 Golden Triangle Double Jointer
(Hardly Art)

At first look, Double Jointer, debut album from Brooklyn sextet, Golden Triangle, looks like some college design course collaboration between Roger Dean and Master P. A psychedelic Photoshop collage that's charmingly odd and amateurish, it seems almost the hallucinogenic fantasy conjured by a techie gen addiction to HD. How much would it speak of our current technological fascination if even our subconscious, influenced largely by this fascination, led us to trip in high definition? You don't get more clarity than real life clarity. Surrealistic clarity? That's debatable, especially when you hear problem/solution declarations like, "If you cannot see, put on your eyes and see/If you cannot feel, put on your hands and feel." Logical solutions to illogical circumstances; common sense applied to uncommon situations; clarity verses haze. There's even a question about the ingredients of LSD at one point.

It's possible that being visually over stimulated and spoiled has led to Phil Spector-sized "Wall of Sound" nostalgia, hence the continued onslaught of muddy garage bands that seem to break ground every other week. Golden Triangle is one of them, a six-manned lo-billy rah rah that combines 60s girl rock groove with 80s post punk pulse. As much as I get tired of citing the Nuggets box set, its contents continue to piss in the sound pool and aspiring musicians continue to swim. Lenny Kaye's famed mix tape is almost as permanent a reference point as The Beatles entire output, so incorporated into the current make-up it's virtually impossible to distill.

But, I give Golden Triangle credit. If I had the chops to accurately replicate how Lenny Kaye's collection and Lux Interior's vision could fuse together, Double Jointer, perhaps named all too appropriately, would probably resemble my best efforts.

The multi-tracked vocal approach is the work of dual singers, Carly Rabalais and Vashti Windish, both of whom sound similar enough that they come across as the same voice. I love this about Golden Triangle, particularly because their take on the deepened reverb Shangri-La vocal isn't a studio gimmick, but they inadvertently lead you to that conclusion. They mostly sing in unison, harmonizing nicely overtop the band's bass-heavy lo-fi which is predictably distorted, but discernible. The band bounces well. There's a classic level of energy that begins with Cinco De Mayo and never really lets up, dancing rhythms that enmesh Warhol's Exploding Plastic Inevitable with CBGBs.

Yeah, I know: Another NYC-centric rock revivalist ploy. But, have faith. Inasmuch as Golden Triangle overtly appropriates New York's unabashed hipster cred, they also fashion an album that sounds as genuinely 60s as it does 70s or 80s. Hearing the "Oh, Hollywood, where did you go?" cry of Death To Fame seems almost confirmation of their allegiance to an era of long ago, and the sadness of its passing. A song like Neon Noose will make you visualize psychedelic duotone dancers just getting into the groove, happy remembrances from a group far too young to know any of this firsthand. Even the militaristic Mamas & Papas Rollercoaster seems a call to arms worthy of If 6 Was 9 or Five To One, even though I'm not completely sure if they're protesting anything or rallying like-minded troops.

To sum the band up perfectly, listen to Arson Wells. If you can imagine The Cramps' cover of Strychnine by The Sonics, combined with The Count Five's trail off during Psychotic Reaction, you won't find a better marriage of garage prowess and proto-punk vitality. Golden Triangle isn't the second coming of anything in particular, but they at least know what they're doing.
23 March, 2010 - 20:29 — Sean Caldwell