Music Reviews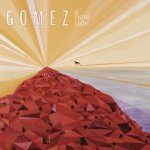 Gomez A New Tide
(Eat Sleep Records)
Buy it from Insound

My first experience with Gomez was borrowing Liquid Skin from my local library when I had first started high school, a time I could not yet afford cds on any regular basis and my parents were still not convinced we needed to be connected to the world wide web. Among the bad country compilations and boy bands, I remember picking up Liquid Skin and staring at the strange cover art on the front, intrigued. I had no idea Gomez had won the Mercury Prize for their debut, 1999's Bring It On, and had been heralded as the latest British darlings. I just knew the music immediately got under my skin. At the time I could barely label all the genres which seemed to influence the band – folk, blues, psychedelia - but that stuff didn't seem to matter. To me the album was brimming with eclecticism and it seemed to have attitude. Some times joyful, other parts bitter and most of the time it had the feeling of a big fat hazy hangover. I wanted to listen to it over and over again, ingraining the melodies into my skull in that special way that only happens when you discover a high school obsession.
However in their subsequent albums Gomez seemed to have lost something that made their first two albums so special. The band gradually softened their rough edges but in doing so they seemed to lose some of their authenticity. There were still some excellent songs but it all started to sound a little self-conscious and contrived. And now we have the optimistically titled A New Tide. A new beginning, a new page? Well, it's not quite a misnomer. But rather than a brand new direction, the band seemed to have returned to their roots – melodic, folksy tunes, albeit with less experimentalism. And there is some nice arrangements here, even if too many of the tracks sound like they belong on some type of chillout/easy listening compilation.
Mix opens proceedings, sleepily at first, with its carefree acoustic strums before coming to life with drums and guitar reverb creating an atmosphere of laid back, whirling psychedelia. Orwell's gravely, wonderful voice enters the scene on the second track, Little Pieces, a number which starts off lightly enough before the familiar stomp of Gomez guitars welcomely intrudes. Bone Tired is lovely and delicate and like the opening track, manages to create an ambience both weary and spaced out, a sound Gomez has perfected over the years. Airstream Driver is probably the standout track with its funky unshakeable beat reminiscent of The Beta Band, the type of song that makes you shake your head or tap your foot without even realising it.
The thing about having so many acoustic tracks and stripping the experimental guck from one's songs is the focus it places on the lyrics which unfortunately for Gomez, have never been their strong suit. Case in point is Other Plans, a song about a girl who may just be biding her time with a boy until something better comes along. Ball sings, "It's no secret/ I know you've got other plans/ That don't involve me/ I'm disappointed though I try to understand." The lyrics are a little clunky but they seem heartfelt. And toward the end, the melody breaks into a guitar jam which lends a gravity to the wistfulness of the song.
The truth is I just don't have too much more to say about this album. It's not that I'm indifferent to it. I did enjoy it while realising it wasn't really going to really change my life, or even my week for that matter. I kept coming back to the same feeling though: it sounded inoffensive. I could play A New Tide to almost anyone, musically inclined or not, and they probably wouldn't ask me to burn them a copy but they wouldn't tell me to turn it off. And I don't want to say this in any definitive way but perhaps Gomez just can't get back whatever made their first albums so special. Don't get me wrong, the band are still talented and full of imagination. But it's just not sustained and filtered through their songs in the same way it was in their early releases. If only you could bottle that kind of magic.
30 March, 2009 - 12:30 — Cara Nash