Music Reviews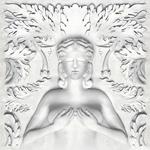 G.O.O.D. Music Cruel Summer
(G.O.O.D. Music/Def Jam)

Everyone has their own opinion on Kanye West, an opinion which is inescapable when he releases a new album or when people look back at his back catalogue. Roughly there are two views on Yeezy. 1. He's a jackass, an arrogant prick who interrupts boring country music singers; he's teetering on the edge of madness and his music is crap. 2. He's a jackass, an arrogant prick who interrupts boring country music singers; he's teetering on the edge of madness and his music is brilliant. Excluding the Taylor Swift reference, that description could describe Kanye or it could describe Prince. If you still can't make up your mind, here's a tweet from the man himself: "I was recently questioned about the use of the word BITCH in my music and initially was offended by anyone questioning anything in my music."
Keeping up the Prince likeness, this is his Paisley Park moment. It's not officially a new Kanye album, it's G.O.O.D. Music. It's only really the name that stops it from being Mr. West's new official album; only a few tracks don't contain the man himself and he's unwilling to release singles that don't star, as he declares himself in the very first track, the god of rap. Which leads us onto who actually appears on the album.
Overall, it's a good set of appearances from the usual suspects and a couple of surprise guests. Jay-Z rocks up on Clique and does his usual thing and is pretty good, Raekwon makes a similar one track appearance; both bring their seasoned rap skills to a fairly young set of performers, a bit like Paul Scholes and Ryan Giggs do to Manchester United's midfield. They might not be ever-present but in their bit-part roles they shine and pull the strings. Pusha-T shines in a second fiddle role to Kanye, most of all on New God Flow, Kid Cudi too, Creepers being one of the standout tracks with its handclap backing and noise-synths. The-Dream gives auto-tuned vocals to Higher, which stars Mase (remember the guy from Mo' Money, Mo' Problems?) and is well worth listening to, if only for the intrigue of him finally being back on big tracks with his trademark slow flow. Then there's the below average appearances. John Legend makes his obligatory appearance and is passable, just like he was on My Beautiful Dark Twisted Fantasy. Whoever it is (sometimes it's hard to keep up with all the guests and lesser known label mates) that rhymes a series of words with sin city on the track of the same name is absolute rubbish. Like, seriously bad, but it's expected, there have to be a few duff moments. And Big Sean. Oh, Big Sean...
Kanye raps about exactly what you'd guess. He bigs himself up, pays homage to Michael Jackson, mentions a few current new stories that'd be more current if this album was released when it was meant to be, and makes a comment, the best being "Mitt Romney don't pay no tax, Mitt Romney don't pay no tax." He mentions some things that reporters have said that annoyed him, in one moment of astounding arrogance Yeezy accuses journalists of trying to "crucify me like they did Christ." Wow. Comparing MBDTF and Cruel Summer, we get a far happier Kanye, all that bitterness and anger that invigorated MBDTF is watered down, instead of being made by tabloid enemy no.1 he's now the guy who made Watch the Throne, a massive pop hit. Not that it's boring, it's just that Kanye has always been better when he's feeling aggrieved; The College Dropout was powered his unhappiness at his pre-rap life, Late Registration by coming to terms with his personal demons. Now what has he got to feel unhappy about, having too much money? Not everyone thinking he's the best? He's still good; it's just more of the same.
As ever, the production shines through, especially on the aforementioned Creepers or on the bold, tense and aggressive sounding New God Flow and The One, a laid back, gospel inspired affair with soft, tinkling pianos and the quietest, slightest sample of Biz Markie. Cruel Summer is far closer in terms of its palette to MBDTF or Watch the Throne than Kanye's earlier work, more electronic than old school inspired. In fact it's rare to find a song that doesn't have a bleep repeating.
I'm sure you've noticed a theme repeating in each aspect of the album. It's exactly what everyone expected this much hyped album to be like. We all guessed the Jay-Z appearance and a Wu-Tang member outshining the other acts on show. We all expected insane feats of arrogance. We all expected Big Sean to be terrible. But it says something about Kanye West's ability that it's a disappointment that this album doesn't change music in some way like the triptych of The College Dropout, Late Registration and MBDTF did. But don't get me wrong, it's a good album. I just expect masterpieces from Kanye West and his friends.
14 September, 2012 - 13:37 — James McKenna