Music Reviews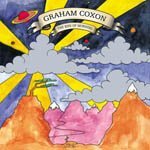 Graham Coxon The Kiss of Morning
(Epic)
Buy it from Insound

Just who is Graham Coxon? Britpop relic? Lo-fi songsmith? Incessant noise merchant? Troubled soul? Answers on a postcard for that one. But I'm not here to talk about the man's past, or why he was deemed by his former band mates to be the weakest link; I'm here to tell you all about his excellent fourth (I know, I struggled to recount where the other three came from too) solo album.
The Kiss of Morning is the best album that Graham could have released at this time. When you listen to it for the first time you don't hear the guitars, the bass and the drums; you hear his soul. Right from the opening Elliot Smith-style confessional Bitter Tears (sample lyric "7 AM and wasting away") you know that the man is hurting. But this is not the type of manufactured angst that you get from cardboard cutout new metal pinups like Fred Durst (Fred Durst? Pin-up? A contradiction in terms surely?); you get a sense that this man is truly hurting about something. This is not suffering for your art; this is suffering posing as art.
Perhaps that could explain the slightly schizophrenic way the album crashes from one track to another. Escape Song sounds like Ray Davies having a drunken punch up with The Shadows, whereas the following track, Locked Doors has a lopsided bar room stoner element to it, a lot like Ben Folds jamming with, well, someone better than him.
Although some detractors will probably point out that Coxon doesn't have the strongest of voices, it's his broken whimpers and his caustic ranting that make this album the compete article. Do What You're Told To and Song for the Sick (Sample lyric 'I'll see you in hell/I'll be laughing cause you're dead') both exude a bitter, malevolent energy that leaves you reeling. The last time I heard an album that sounded so lost and so damaged I had just listened to Eels' Electro-shock Blues, and even that doesn't quite measure up to the feelings of darkness & despair that permeate this album.
Quite what the future holds for Graham Coxon is unclear. Abandoned by both his girlfriend and his band mates he cuts quite a pathetic figure (albeit a pathetic figure with a very large bank account and his own record label). But in this record, he has made one of the best break-up albums of 2002 and for that he should be applauded. Angry yet bittersweet, focused yet still needy, Ladies & Gentlemen, I give you Graham Coxon. Feel his pain. It's never sounded so good.
6 January, 2003 - 00:00 — Ben Stroud