Music Reviews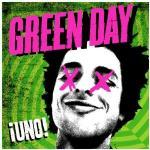 Green Day Uno!
(Reprise)

There's something insidious about pop music as it has developed in the past 30 years. Now the top 40 market is so dominated by the buying power of adolescents with discretionary babysitting income, that it makes it very difficult for pop stars to age gracefully. I can't usually listen to any of it for more than 30 seconds at a time, so I'm no expert, but when's the last time you heard am adult singing to other adults about something other than sex that might concern adults? Hal David's death made some of us wonder where the sophistication, that infused so many pop songs up to the 70s, had gone. I mean Christ, look what's happened to Weezer.
Having not checked in with Green Day for many, many years, I wondered how they might be aging on record. American Idiot was a nice blend of socially conscious cant and snot-nosed rant, so there was some hope that they'd found a kind of balance as long in the tooth punks. Listening to Uno! I have to say that it's a little dispiriting to hear Green Day still making such blatant swings for the charts. I mean, why is Billy Joe singing "Someone killed the DJ" over a rocking reggae groove, a sentiment previously expressed by Nicki Minaj? Maybe its satire, hard to tell. And I can't exactly explain how the Ramones used to get away with singing corny 3 chord songs whereas Green Day sounds hollow doing it on Fell for You.
On the other hand you have to give them this - after all these years they can still write a catchy tune. That's what it comes down to really. You know this band is going to deliver the energy and a tight, intense performance so everything tends to rest on the quality of the songs. In this case, while I said that I'm a little put off by the chart grabbing I still want to give kudos to a band that's at least trying to make music for regular people like with the right hand while holding on to a shred of dignity with the left.
Starting right off with a cop from the Clash's colossal Safe European Home may not have been the best idea in my mind because it drew immediate comparions to one the greatest songs of the punk era. But once the dust settles Nuclear Family holds up pretty well, and would have sat alongside anything on Dookie. Like their heroes, the Ramones, Green Day is resolutely refusing to branch out too far from the punk template. Stay the Night has a nifty guitar riff that sets up another appealing ditty and Carpe Diem sets up a nice syncopated chorus that its almost impossible to resist. The thing you start to question is how or why they get up and do it again over and over. I can't really question their integrity but after a while some of the devices they rely on, like the frequent profanity, sound gratuitous. Is this just thrown in to appeal to teenagers? Or is it just the way Armstrong expresses himself? I'd prefer to believe the latter because I retain a residual admiration for this band even though I haven't been strictly a fan since 1994. I've also come to appreciate Billy Joe's guitar work which is on fine display here with a number of well crafted and well executed solos.
The set starts to sag in quality a bit in the second half, but ends strong with the anthemic Oh Love. While I write this I'm learning that Armstrong checked himself into rehab for substance abuse after a very public meltdown at the iHeartRadio Festival this month when he learned that his set was cut short to make more room for Usher. Sounds justified to me, but hopefully he straightens himself out. It may be a bit predictable but it's also kind of comforting knowing Green Day can still crank out albums like this with seeming effortlessness.
2 October, 2012 - 10:04 — Alan Shulman