Music Reviews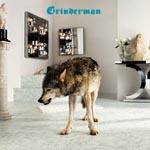 Grinderman Grinderman 2
(ANTI)

Nick Cave wrote No Pussy Blues. It shouldn't surprise me at all that a man of fifty-three years of age, even someone as literarily adept as Cave, could still be so preoccupied with his dick. After all, so much of a man's identity, mortality and ego stems from keeping the member "tamed," "charmed," or "wrangled" as the single Worm Tamer not so subtly suggests, and Cave's "Loch Ness monster," ("Two great big humps and then I'm gone"), seems a little pent up.
Grinderman's self-titled debut was a testosterone soaked and desperado-fueled wanderer of an album, the Grinderman himself the mystical and mystified male roaming "in the pale moon light, in the silver rain," told by a stripped down version of The Bad Seeds: Cave, Warren Ellis, Martyn Casey and Jim Sclavunos. The album was raw for lack of a better word, guitar rock that was both enthralling and abrasive, and it set itself apart from the Bad Seeds by being less concentrated and more in tune with garage rock, or older post-punk.
Grinderman 2 follows with more of a racket, still the full-throttle guitar-driven rock meant to separate men from boys. Mickey Mouse And The Goodbye Man smolders from the outset, Cave testifying as if interrogated, "And he sucked her and he sucked her and he sucked her dry/And he bit at me and bit at me and said 'goodbye.'" Mickey Mouse And The Goodbye Man acts the album's horror/noir primer before Worm Tamer's psych ruckus swings its libido like an elephant's trunk, or a woodman's axe. Heathen Child is just odd as it's eerie, yet campy. The riffs are strong enough to proudly brandish their balls, but there's a glam-ready swagger to the song that borders on amusing.
Album highlight When My Baby Comes begins with background howls, acoustic jamming and strings. An occasional buzz of guitar cuts through the music like a fart in an opera house, unannounced and apparent. The music peaks just before shifting into an electrified blues jam, Ellis' violin stuttering in distressed scribbles across the slow moving instrumentation. Involuntary rock fist ensues.
Cave croons out of step with the bass drum and winding friction that carries What I Know, leading into the psych push of Evil where Cave desperately riffs atop the syncopated mixture of throbbing bass and howling guitar sounds. Kitchenette plods along while Cave either espouses food-related innuendo or talks about "the ugliest fucking kids I've ever seen," a weak spot that's lightened by the more melodious and rather beautiful Palaces Of Montezuma.
Grinderman 2 ends with the blues-infused psychedelia of Bellringer Blues, backward guitar sounds humming sporadically over Cave as he and the band close the song out in vocal unison, old pervs with blood still coursing through their veins.
2 December, 2010 - 05:45 — Sean Caldwell