Music Reviews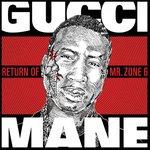 Gucci Mane The Return of Mr. Zone Six
(Warner Bros)
Buy it from Insound

Between a stint in prison and a court-ordered trip to a mental institution, the last 12 months have not been easy ones for Gucci Mane. It makes sense, then, that Gucci would want to return to a comfortable place.
The Return of Mr. Zone 6 has been described by Mane as an attempt to "return to the music that got me buzzin' in the first place," but it would be more accurate to say that the album is a lukewarm retread of the ground he covered on far superior street releases Murder Was the Case or Trap-A-Thon.
Mane has pulled out all the stops trying to remind his core audience why they should give a shit about this guy in the first place. 95 percent of the album's production comes from longtime collaborator Drumma Boy, and tracks feature cameos from longtime friends like Waka Flocka, OJ Da Juiceman and Whoo the Kid as well as aging southern rap mainstays like Birdman and Master P.
While the pieces might be in place for a career-revitalizing trunk-rattler, Return of Mr. Zone 6 finds Gucci rapping worse than ever before. Slower, stupider and lazier than ever before, Mane reverts his flow back to its infantile stages, going in lazily and chunkily on lukewarm songs like 24 Hours and Shout Out to my Set. Mane even gets out-rapped by Waka Flocka on the go-nowhere single This is What I Do, a rapper who has said on more than one occasion that he doesn't care about lyrics.
The album would be an incredible failure if not for its last four tracks, which come out of nowhere to stand head and shoulder above everything else on the record. Pancakes is a legitimate Gucci banger, rich with his trademark mumbled flow and stupid delivery, while Hell Yeah gets some heft from Drumma Boy's horror-core piano line and an echoy synth hook. All-auto tuned My Year sounds way better than it looks on paper: something about Gucci's weird high-pitched whine makes the song captivating inspire of itself.
The record closes with six-minute Trick or Treat, a track that finds Gucci sounding interested, plugged in and focused. If Mane can make an album of tracks like that, he'll be back in no time. However, considering the nine other songs on this album mix lazy production with unfocused rapping, The Return of Mr. Zone Six is a largely forgettable album.
(Note: I made it the whole way through this review without mentioning an ice cream face tattoo.)
28 March, 2011 - 20:31 — Charlie Jebb