Music Reviews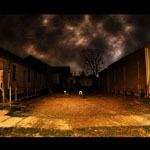 Gutter Twins Saturnalia
(Sub Pop)
Buy it from Insound

Front Street, the climactic and brutally beautiful final track from Saturnalia, the full-length debut collaboration between revered alt-rock icons/chain-smoking trainwrecks Greg Dulli (Afghan Whigs, Twilight Singers) and Mark Lanegan (Screaming Trees, Queens of the Stone Age), collectively and appropriately named The Gutter Twins. Imagine spending the evening with these two charming ghouls—pretty fucking scary to say the least. As expected, there are plenty of personal demons and addictions, love and inevitable loss all on display throughout the often introspective Saturnalia.
The Stations, their sandpapered vocal chords working in harmony. Dulli takes charge on the excellent God's Children, and Misery/Flowers builds, burns and smoulders as Lanegan casually growls, "Little girls might twitch at the way I itch/ But when I burn it's a son of a bitch." Things really get cooking with some big chords and a trademark Dulli yelp on Idle Hands. And even if the chorus almost impedes the momentum, Idle Hands is a fucking beast, thanks in part to Cully Symington's pounding percussion. This is as rocking-out as it gets on Saturnalia. Dulli's cock-rock swagger is decidedly kept in check throughout while Lanegan smoulders with his usual stoic intensity. Who Will Lead Us? and Seven Stories Underground churn and chug with Lanegan in command, and ironically the only two clunkers on the disc are both solo joints, Dulli's I Was in Love with You and Lanegan's Bete Noire. Each to Each takes a good three minutes to gather steam following an electro, Twilight Singers-style drum track, but the payoff is worth the wait.
Front Street, which presents the duo at their absolute brooding best. Dulli finally gets his chance to ham it up here with lines like "People to use, lovers to break/Head full of pills, no life to take" and "Go where you go but forget me not/ Take a minute or two if it's all you got/ Chase your pain with a shot of rain/ Dig with a spade or a razor blade." And when Lanegan grimly chimes in, "When it comes apart, we're gonna have some fun, son," it's a pessimistic promise served with a sneer.
Martin Eden, the stirring introduction to The Twilight Singers' 2003 release Blackberry Belle. Well, break out the aluminium foil again because misery loves company, and what better co-host than Mark Lanegan? Saturnalia revels in sin while occasionally contemplating salvation. Mesmerizing comes to mind.
15 May, 2008 - 20:44 — Chris Conti