Music Reviews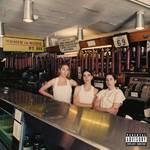 HAIM Women in Music Pt. III
(Polydor Records)

The title of the HAIM sisters' third album is telling: they're three women who have to continue to prove that they're "proper" musicians. As pathetic as it is that this is still an issue in 2020, the LA trio doesn't want to be asked that question anymore. Throughout these thirteen tracks, Danielle, Este, and Alana push themselves to settle that question once and for all. And they do mean it, as Women in Music Pt. III throws any rules out the window, structurally and songwriting-wise, while retaining their delectable, sun-kissed indie-pop.
On opening track Los Angeles, the trio drops a hip-hop drum break and a jittery guitar groove as their hearts bleed for the city that raised them—even if at one point they felt like it was time to move on. Musically, it's a noticeable departure. But HAIM is usually at their best when they clear the air out over crisp guitar licks and bright vocal melodies, as they demonstrate on The Steps, where they assert their independence: "And though we share a bed/you know that I don't need your help." It's that balance of new and old that keeps their albums fresh despite sometimes falling into familiar patterns.
But that's just one side of their story. In the last few years, HAIM also dealt with depression, fraught relationships, and chronic illness (Este has type 1 diabetes). And throughout WIMPIII, the sisters don't hold back in sharing their emotional setbacks—though, from the very beginning, the plan was to stay joyful and make the songs burst with life. On Up From a Dream, Danielle channels her inner Marc Bolan over glammy riffs and rumbling bass as she wonders when her romantic relationship came into a standstill. Whereas on the strummy, offbeat Man from a Magazine, they openly rebuke the men who can't help but treat female musicians in a way that's patronizing or condescending: "I don't want to hear/It is what it is, it was what it was."
Despite tinkering with their songs in fascinating ways, it can sometimes feel like they choose to hold back on many of the album's themes. On I've Been Down, they perfectly depict an unproductive day with humorous and relatable detail—even if the chorus is nothing more than an uninspired singalong (which is a shame because the guitar hook and sax accompaniment are just the opposite). The song is almost antithetical to the similarly-themed I Know Alone, where the band plays along with 90s hip-hop production and sonic accouterments. The trio expands a little more into what it means to feel depressed despite mostly sharing general truths: "I know alone/Like no one does."
Overall, WIMPEE is an easy album to love, which, more than anything else, shows the trio's natural chemistry as musicians. HAIM even has a song about that too, like on Leaning on You, where they sing about their strong sisterly bond as they pay musical homage to their city's folk-rock past. Having chosen to maintain an upbeat, positive outlook to outweigh all the despair does big favors to the band—featuring a sparkling production that fits many, many moods—though it makes one wonder what could've been had they let us in just a little bit more.
Note: Women in Music Pt. III includes three standalone bonus tracks, all of which were part of their recording sessions with producers Rostam Batmanglij and Ariel Rechtsteid. The three of them are singles for a reason—they're colorful, revealing, and push the trio HAIM in many exciting direction (especially the stripped-back folk ballad Hallelujah). On the merit of these, I'd be tempted to score it higher. But I feel it's best not to factor them into the score since they're not part of the statement HAIM was trying to make with the album as a whole. So for that reason, I feel it's best to only weigh in on the album's official tracklist sans the bonus cuts.
30 June, 2020 - 03:37 — Juan Edgardo Rodriguez