Music Reviews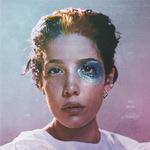 Halsey Manic
(Capitol Records)

In 2015, I saw Imagine Dragons in a giant arena on their Smoke + Mirrors Tour. It was a low point in my life, but I had enjoyed moments off their sophomore album—and seriously felt that Shots was one of the best songs of that year. The first of two opening acts (second being Metric) was Halsey, a young alt-pop singer-songwriter in the vein of Lorde or Lana Del Rey. Her stage show was interesting and fun to watch, even if I wasn't in love with a whole lot of her music, and I soon forgot about her until her songs started to cross over into the mainstream. By the time she was a mainstream pop artist, I fully accepted that I wasn't much of a Halsey fan.
When I encountered Manic, Halsey's third studio release, I found that it took four attempts to sit down and hear the album the entire way through. It may have been my previous distaste of her cheap production, insufferable lyrics, and self-important tone that set me off, but it's also a bit more than that. If you put on the opening track, Ashley, you can't make it five seconds into the song without a grating pitch-shifted vocal track swarming in the mix. If you stick it out until the first verse, you get vocals that have an iPhone 5s-Voice Memos audio quality to them. If you make it a bit longer, you get a final warning: "I don't want to be somebody in America/Just fighting the hysteria." By the time Halsey's shrill voice is pushed to her limits on the chorus, you should have known better.
It's not that every idea here is bad. There's an interesting use of acoustic guitars here, particularly on the back-to-back tracks of Graveyard and You should be sad. The latter, with its country-tinged songwriting and electric guitar on the chorus (which provides the song some serious texture), is a surprising turn in the right direction. The former sands away any tension with irritatingly basic percussion and vapid synths, but the hints of electric during the chorus and acoustic guitars in the verse make it at least bearable. The real problem is that the best ideas are outvoted by frustrating ones, leaving us with little touches like the short, yelping-like sound in the second verse of More or the distorted vocals that end killing boys. There are some good moments here, but even the best of them can't help Halsey get out of her own way.
4 February, 2020 - 21:21 — Ethan Gordon