Music Reviews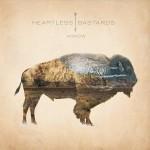 Heartless Bastards Arrow
(Partisan)
Buy it from Insound

In a time when synth-obsessed indie pop runs rampant amidst the blogosphere, it is refreshing to hear a band that has dedicated its career to a more classic approach to rock 'n roll. The popularity of Band of Horses and My Morning Jacket in the past decade has given the southern rock scene a consistent presence in the music world, and Heartless Bastards have proved themselves to be one of the most impressive bands in this category. Their 2009 album The Mountain was a flawed masterpiece, moving from the riff-heavy songs from their early sound to the incorporation of a variety of genres such as folk, garage rock, blues, and country. This musical eclecticism and singer Erika Wennerstrom's lyrical candor at once gave the album a perplexing and inconsistent consistency. Their new album, Arrow, moves from the raw, sparse tone and timbre of The Mountain and moves the Bastards back into riff country.
Arrow succeeds in a major way that no other Heartless Bastards has before. The music is placed on the forefront in the mix, and guitarist Mark Nathan brings with him a huge presence. His guitar solos give Arrow and overall jam-appeal, which speaks more to the Bastards' southern rock roots. On that note, much of this album is a collection of easily-accessible southern rock songs. While it works for the general tone, there are several occasions where this accessibility gives the songs a single-dimension simplicity. Apparent single Got to Have Rock and Roll (a title that best describes the motive of Arrow) doesn't move further from being an ode to rock 'n roll's catharsis.
When Wennerstrom's lyrics match the energy of the band, the results really demonstrate where the Bastards are coming from. Songs like Parted Ways and Late in the Night are perfect examples of this marriage between Wennerstrom's lyrics and music, marching through well-travelled but still rewarding Skynyrd and The Band territory. Only for You shows off its kicks about mid-way through the song, when Nathan's fluid riffs back up Wennerstrom, singing "all your lies are spinning 'round my head, and all this line of sorrow." Skin & Bone is equally refreshing in its acoustic nature.
This is the second Heartless Bastards album to be produced by Jim Eno, the drummer for Spoon. The difference between his production on The Mountain and Arrow is like night and day, with The Mountain's distorted, closed-in production sharply contrasting Arrow's expansive soundscape. The album's first song, Marathon, introduces this change in production value. Wennerstrom's voice and guitar echo over the hills of a big country while singing about life being a "long road home." While this is an over-exhausted metaphor, Wennerstrom's delivery and the song's overall beauty erase any doubts of sincerity.
A song like The Arrow Killed the Beast would have little hope of sounding half as magnificent as it does had it been recorded for one of their previous albums. Dave Colvin's percussion, sounding like a steady march of thunderclaps, Jim Eno's immense reverb, and the chorus' haunting harmonies give the song intensity yet to be heard from the Bastards.
Overall, Arrow is the quintessential Heartless Bastards album to date. It demonstrates a maturity yet to be so refined on one of their albums. The only qualms I have with the album is that it relies so heavily on clichés of southern rock, which is, as said earlier, well-traveled territory. Nevertheless, Heartless Bastards are masters of the neo-southern rock era, and deserve praise for their craftsmanship. Even if it's not the most breathtaking album to be released in 2012, it's an album coming from a band that is giving itself ample room to hone their craft and expand.
12 March, 2012 - 23:08 — David Hogg