Music Reviews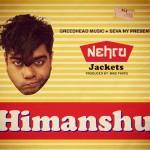 Heems Nehru Jackets
(Greenhead)
Buy it from Insound

One of my favourite hip hop albums is 3 Feet High and Rising. It's one of those records that is far too long, has loads of crappy skits, yet I can never bring myself to delete the rubbish bits from my iPod or skip tracks like Transmitting Live From Mars. I always listen to them but whenever I think about the album as a whole I only ever remember the best bits and I always end up involuntarily rapping and dancing to Me Myself and I. I get a lot of funny looks when that happens.
Nehru Jackets is exactly like that, it's the child of 3 Feet High and Rising. It's feels about 6 hours long and is full of filler (though thankfully the rap tradition of godawful skits hasn't imprinted itself on this mixtape) yet for some reason, I like it. Boil it down to about eleven tracks and it's one of the top hip-hop records of the last few years. It really takes you back to the Native Tongues movement in the late 80s; Heems has embraced his heritage and has made an album that is both stupid as hell and politically conscious, full of ironic giggles. It makes you think, makes you dance and makes you laugh.
I always feel bad writing about artists and saying that they sound like someone else but it's totally inescapable with Heems and Das Racist. This album is apparently a tribute to the streets that Heems grew up in but it's more about his whole environment, his memories and his music. As a result, so many rap groups shine through. Womyn is so reminiscent of Girls by Beastie Boys or Biz Markie's album Goin' Off; it sounds so silly and has such deep, introspective, erudite lyrics as "they're better than steak!" and "they're sometimes Spanish," though maybe that vast knowledge is due to Heems only knowing "like seven women." I challenge anyone to listen to that song and not smile at the bouncy backing or at the moment that a background voice shouts SHAMPOO! There's even the traditional hate the police rap on Nehru Jackets, as NYC Cops takes a squeaky Strokes' sample and a dramatic guitar yelp and the result is one of the best anti-police songs around. It's an intellectual reaction to, and explanation of the blemished past of the NYPD. It's glorious to hear a rapper that doesn't end up advocating violence against the police. There are even some surprises for those allergic to hip hop; My Bloody Valentine is the clear basis of Desi Shoegaze Taiko and Kate Boosh has a bastardized Kate Bush sample swaying around in the background.
But there's one big problem squatting on my brain. I've mentioned it already, boil it down to about eleven tracks and it's one of the top hip-hop records of the last few years. That sounds good at first but if you take into account that there are fourteen other songs that I'd gladly lose on this mixtape it starts to be a bit of a problem. Other issues seem to contradict each other. The album as a whole is seventy minutes long which always puts me off; it reduces the accessibility of an album when you can't take it in one sitting. Yet in direct opposition to that problem is that some of the songs are too short. I know that sounds absolutely ridiculous: I can't stand the length of the album but I think the tracks aren't long enough. My solution would be to go at it with a chainsaw, cut everything that doesn't work or is incomplete. Juveniles Detained at Guantanamo Bay is great while it lasts, but then it ends a minute and a half too early. The guest rappers would also be cut out in my version of the album, excluding Kool A.D. Not that I'm against vocal diversity, they just offer nothing to the album, each one dropping verses that don't fit to the record. I don't know features on Womyn 2 but he subverts the previous respect for women by doing what no one asked for, talking about how women only care about money and sex. It enflames my woolly liberal mind until I get caught up in the catchy beat again.
30 January, 2012 - 10:45 — James McKenna