Music Reviews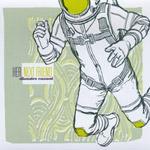 Her Next Friend Disaster Casual
(Antipoison Records)
Buy it from Insound

There are a lot of unknown bands out there that, for better or for worse, never have and probably will never achieve popularity in spite of their musical greatness. However, as enjoyable as it is to dislodge one of these hidden gems from the rough, for every one of them there are a hundred bands that are unknown simply because they haven't done anything noteworthy, haven't demanded your attention. Her Next Friend is a little band from Virginia that caught some buzz with their goth-bluegrass cover of the White Stripes' Seven Nation Army, but their music ultimately does not shine like a gem worth saving. Disaster Casual, their latest album, simply confirms this further.
The one element of Her Next Friend that you'd probably notice above all else is singer John Burton's unique voice. Burton possesses sort of a showtunes croon, with exaggerated emphases and stretched out words, that provides a nice contrast to the guitar rock. Unfortunately, it's also one of the only unique things about this band.
Most every song on Disaster Casual has a sly little nucleus at its center, but they're filled out and dressed with some really toothless, cottonmouthed alt-rock. Whether it's muted synths, running basslines or unthreatening feedback, everything's so scaled down that it seems the band has actually achieved a deliberately underwhelming final product. It's just so perfectly calculated in its "meh"-ness. When an album's opening riff immediately reminds you of The Offspring, you already know the ship is leaking water fast.
I hope that Her Next Friend's songwriting quality is not the issue (maybe hearing the songs in a stripped-down acoustic setting would determine that) and it's just that the band doesn't possess much instrumental prowess, but Disaster Casual is completely texture-less. House With No Door and A Shadow Beside Her get your feet moving, but there are no sonic layers to digest. The album almost sounds MIDI'd, and there's no adventure in the throwaway guitar work. I'm really scraping the bottom of the barrel when I'm actually thrilled to hear the surprising yet fairly standard organ solo that closes out Don't Get Real on Me, Man.
Fittingly, Disaster Casual is also a very short album at eight tracks, only two of which are over four minutes. The whole thing evokes the feeling of a bunch of friends goofing off with some hand-me-down instruments and an old recording device with nothing better to do on a Friday night. All that's fine, but I've seen plenty a bar band come and go that have had more hunger than Disaster Casual suggests this band has. There's an impenetrable force field of indifference around these songs that refuses to let you in.
I hate to bash a little-known band with a lot of ground to cover, but I'm also not going to give empty praise just because they are obscure (that's how the Nickelbacks of the world come to pass). And as much as I want to be the good guy and help these gentlemen fight the good fight, I just don't see much muscle here to keep Her Next Friend propped up, let alone swinging and kicking. The fact that the band's biggest hit was a song they didn't write says a lot about their accomplishments, and Disaster Casual unfortunately does not suggest that any more surprises are on the horizon.
3 August, 2009 - 09:59 — Andy Pareti