Music Reviews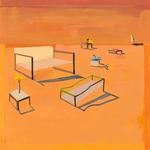 Homeshake Helium
(Sinderlyn)

Peter Sagar can't overcome his creative inertia in Helium. Stepping out from Mac de Marco's band in 2014, Sagar, who performs under the name Homeshake, approaches his former touring members' worry-free approach but in a more isolated environment. Through his lo-fi aesthetic, we can hear how Seger's ambitions far outweigh his homespun recordings. His metronomic R&B stylings sound like stilted karaoke, as he applies basic programmed beats into his otherwise impassioned vocals.
There is a charm to Sagar's gawky confidence. He applies minimal instrumental sources so he can focus on his performances. Sagar can be unintentionally endearing at times, like in Anything at All, arguably the most foolishly sentimental song ever written about disconnecting yourself from your cell phone. On Like Mariah, he takes inspiration from the Queen of Christmas herself by reaching for a falsetto over a slinky bass groove. Sagar tends to retreat before his arrangements overstay their welcome, but at the same time, it also comes across as if he's making the least possible effort to honor his influence.
As Helium progresses, you get a deeper appreciation for what Sagar attempts to achieve rather than the actual execution. He puts some genuine effort into Just Like My, where he infuses a downtempo New Jack Swing beat over a stiff tenor as if he's trying too hard to audition for New Edition. Other times, Sagar's futile attempts at a vocal melody just flat-out fail, like in the lullaby-inducing All Night Long, extending his off-key pitch as a low-end synth loop gently tries to mark his flow.
After four attempts, it's safe to say that Sagar has locked down his low-lit, intimate interpretation of classic soul. But there hasn't been any progression to his style, either - it's especially striking when you can't even tell whether or not he recorded Helium in his actual bedroom as opposed to a studio on his two past releases, Fresh Air and Midnight Snack. Sagar sounds lethargic and detached, which may be the mood that he's going for; but when he sticks to the same tired motifs, it's hard to feel any more excited than him.
18 February, 2019 - 10:00 — Juan Edgardo Rodriguez