Music Reviews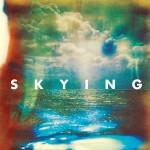 The Horrors Skying
(XL)

Many bands must ponder this exact question: after being chosen as British indie's new hope, how do you apply yourself in terms of aligning a musical career? The Horrors couldn't be any less attractive: a couple of Southend-on-Sea misfits firing an aggressive redefinition of 60's garage with posh leather jackets and outlandish black clad eyes. At the time, it could've been a response to the landfill of pretty boys and their pop-inflected, flimsy punk attitude. Oddly enough, The Horrors had become the solution for clearing a landfill of savvy punk acts – they graced the cover of NME without even one proper release, noted by their pallid image and backwards thinking gothabilly. And it didn't help that Faris Badwan's physical appearance was just as lanky as Julian Casablancas, with jeans that were just as tight and backing members that were just as modishly conscious.
Without a doubt, ugly had suddenly become the new attractive. And all this time, The Horrors were just being themselves? Or so we thought – it didn't take them long to cultivate some personality into their ghoulish image with Primary Colours, a feedback-drenched splendor revolving around chunky melodic chords with a nifty metallic luster. If a heading titled Hyped Bygones were placed way below a rock historian's file cabinet, then the Horrors had earned a well-deserved second glance from cynical pundits for their surprising turnaround. It provided an open-ended atmosphere that was anomalously inviting, which was awfully far-removed from Strange House's jerky organs and corrupt, ear-bleeding hooks.
More mindful than anyone ever gave them credit for, The Horrors mapped out Primary Colours after long listening sessions, intent on conveying a distinctive sound without abandoning their brazen personality. To the surprise of many, they were well ahead of the curve, trimming from a string of influences ranging from Disintegration-era Cure to German krautrock. With each consequent release, they get into the habit of sacrificing and adjusting kinks learned along the way - Wild Eyes interlocks cascading keyboard layers with a pulsing, uncomplicated beat, hinting at both the accessibility of Simple Minds and the tightly wound coiling of Magazine. Moving Further Away differs greatly from its implied title, resurrecting Sea Within a Sea's abiding journey with a relentless synth sample that's tailor made for an autobahn cruise.
For a band whose vision is acutely retrospective, there's a copious amount of novel touches that push Skying above the troubling scenestericism that ultimately caused a weighty saturation of new wave bands in the eighties. As much as they could be accused for structuring past tendencies too on point, the truth of the matter is that The Horrors have been conducting their own course ever since they started. That doesn't mean they'll stop exploring anytime soon – Dive In proudly constructs a darkly seductive soundscape that could've birthed Britpop had it been released twenty five years ago. In fact, they couldn't even decide what Madchester style fills their bucket – though both feature Farfisa organs, You Said evokes a spacious, ecstasy fueled version of the Happy Mondays Loose Fit, while I Can See Through You comes across like a punchier Inspiral Carpets with its twirling synths and forceful guitar chugging.
All things said, the wide symbiosis of influences present doesn't sidetrack its factual credo: we will look for inspiring ways to broaden the conception of a guitar-oriented album. In a time when such a term sounds even laughable, Skying doesn't replicate its guitar effects at any moment in the entirety of its record. Endless Blue is the kind of song only the Horrors could write, appeasing to crunching transition assaults with a flair that should leave a strong mark on both stadiums and clubs. It could even be placed among this year's strongest rock (yes, rock!) contenders.
With Skying, The Horrors continue to explore familiar territory whilst refining their idiosyncratic slant like proficient tastemakers. So a case could be made about their alarming change of heart – we're witnessing a band that started so directionless, yet now has a discipline that's frighteningly focused. After exploring the subterranean depths, these exemplary players have risen with a more radiant outlook that suits them. For once, the NME actually got it right.
12 July, 2011 - 07:57 — Juan Edgardo Rodriguez