Music Reviews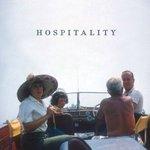 Hospitality Hospitality
(Merge/Fire)
Buy it from Insound

Hospitality, the eponymous debut of the Brooklyn indie band, takes on the weightier issues of being a 20-something with the wit and wisdom of 30-somethings, probably because singer-songwriter-pianist-guitarist Amber Papini has grown into her 30s since Hospitality's 2008 EP. In those years, she has gained the experience, both in life and in music, to look back on friendship, love, boredom, and New York with smiles and laughter.
The focus of Hospitality is not the lost love, choice of college major and profession, perpetual boredom, or growing up; it's about how the lost love, the B.A. in English Literature, and the boredom have made you who you are. It is an album about already having already grown up and looking back with grins and giggles about everything that happened on the way. It is an ode to the "computers, video games, books on the bed," but most of all, it is an affirmation of the individual. This is perhaps best seen in the band's greatest and most charming song, Betty Wang. In just over two minutes, Betty Wang tells the story of a real-life friendship Papini had with an executive who refused to change herself and cater to her coworkers. Papini could approach such a subject with too serious or too preachy a demeanor, but she wisely opts for an irreverent romanticism that focuses on individualism and an attachment to friendship and character instead of privilege, from "New York to Tokyo."
The rest of the songs on Hospitality attempt the same ideas, largely (though not entirely) with similar success. Liberal Arts acutely picks up on the "lock and key" metaphor that Argonauts leaves for it, and while the idea of not selling yourself to a "practical" major in place of what you love is fitted to the album, it comes off as unnecessary with the more effective, more concise The Right Profession clocking in just 10 minutes prior. Furthermore, the "lock and key" that characterizes both Argonauts and Liberal Arts is a metaphor that appears in almost every song, so the lack of cohesiveness throughout the album makes it comes off as a lack of imagination, which is unfortunate given the originality of presentation and storytelling on most songs. Eighth Avenue is one of the more duplicitous odes to New York City, highlighting both the advantages inherent to the city as well as how its shortcomings allow for introversion and thought. Sleepover is just as romanticized a piece of escapism as anything else that shares its themes, but it is content with a small place in a big world. Papini's heroes are not game-changers and visionaries, but everyday people who want nothing more than to have time to be themselves with one another. It's a truly great change of pace, even if a couple views come up more than once.
Sonically, Hospitality's guitars dance with one another in each song, with different levels of gain, different styles, and varying levels of prominence, and are supplemented with everything from horns to synths to strings, and there seems to be no shortage of charming chord progressions and pop hooks throughout the album with both an acoustic and electric. The rhythm section has a few glimpses of spotlight, particularly on the bass-heavy Friends of Friends, but they are usually distracted by arrangements that range from questionable to interesting but not necessarily admirable. The songwriting is handled with dexterity and delicacy that seem designed to complement Papini's airy, innocent voice, but arrangements often come off too abrasive next to such a voice, particularly on the back half of the album.
Hospitality's length works in its favor, helping to counter the aforementioned repetition in lyrical themes as well as a shortage of memorable keyboard lines. Shortcomings are well disguised, and even when they are exposed, the originality of Papini's storytelling is enough to keep the ears alert for several listens. Coming off with an aura of effortlessness, it really does seem like, as Papini tells us on closer All Day Today, that she spent the whole time meeting us. Indeed, Hospitality is an introduction and testament to character, and the more we get acquainted, the more we wish we had.
2 February, 2012 - 10:53 — Forrest Cardamenis