Music Reviews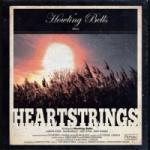 Howling Bells Heartstrings
(Birthday Records)

Formed in Sydney in 2004 but relocating to London in their infancy, Howling Bells provided one of the most enchanting and bewitching albums of 2006 with their self-titled debut, single Setting Sun being the beguiling centre point of an all-round classy effort. Since then, though, things haven't gone according to plan, with both Radio Wars (2009) and The Loudest Engine (2011) being received with little euphoria, leaving the quartet as something of an enigma.
Now, a decade after their formation, comes Heartstrings, a collection of ten songs penned by sultry singer/guitarist Juanita Stein following a brief hiatus after the birth of her first child, with a few side projects for various band members also filling the time. Stein felt a creative surge as songs flowed forth on a daily basis, regular feedback then being provided by her bandmates as they were sculpted into shape. Once the songs were in place, renowned producer Alan Moulder (The Smashing Pumpkins) was, amongst others, sent demos. In the interim whilst Moulder completed work elsewhere, Catherine J Marks was approached to take things forward until he was free to also hook up with the band, Stein instantly building a rapport with the Foals collaborator.
Slowburn was the first track to emerge, a song based on Stein herself that could be describing the album as a whole rather than just the singer with its first line of "I'm a slow burner "; it's a percussion- heavy stomp that gives the impression that maybe, at long last, the band have recaptured that early fire, creating a cinematic presence within the song as a result. Your Love then became the second single, released in conjunction with the album. It's another cinematic experience, a huge dreamy soundscape, the shimmering guitars and synths recalling more genteel shoegaze efforts, even if the chorus suffers a little from over repetition of its title. The foot stomping Tornado is another strong cut, sounding a little like the band covering a beat-reliant Doves track with constantly strummed guitars meeting with distorted vocals to create something not unlike a musical accompaniment to a cool western movie with the album cover also mirroring the movie theme.
Album opener Paris is a real gem, its intoxicating guitar hook recalling the brilliance of Setting Sun as it takes a mesmerising hold on the listener, a mid tempo beat furnished with jangly tambourine creating an emotionally charged stunner. Original Sin is another top track, a stop start effort that invokes comparisons with several tracks from Band Of Skulls' most recent long player, Himalayan, again reaching for that cinematic, almost anthemic presence. But the album isn't only confined to one formulaic style, benefiting from much slower, sparser efforts in places: Paper Heart is a stripped-down thing of beauty, a piano driven moment of minimalism, its subtle qualities recalling Erica Nockalls' (of the The Wonder Stuff fame) solo collection from last year, Imminent Room. The title track and album closer also provides a quieter piece, a slow beat weaving a spell of subtlety with a brief, haunting guitar line leading to the string-backed chorus of "love doesn't destroy, it creates".
The many highlights on Heartstrings suggest that the band are back on track with a bang, reminding us all of the captivating, sultry qualities that they can generate musically, something that is personified by their singer. It's about time, too; with albums two and three doing little to realise that enormous potential contained within their debut, they've finally showed that they are most definitely not a flash in the pan.
6 June, 2014 - 04:38 — Graeme Marsh