Music Reviews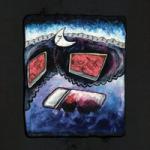 Hundred Waters The Moon Rang Like a Bell
(Owsla)
Buy it from Insound

Gainesville, Florida act Hundred Waters seemingly came out of nowhere with their eponymous debut effort in 2012, a jumbled disarray of electronic expressionism that loosely followed a folktronica influence. Pursuing a natural aesthetic through digital means isn't exactly a novel concept, and instead of taking the modest, grounded route the foursome reached for a vast constellation of heavily-layered stellar sounds; their creative minds orbiting at the velocity of light. Hundred Waters headed in very different directions as it progressed, and the strange alchemy of new age dramatic flourishes and atonal synth beats weaved in and out with grace and skill.
A moment of hushed wonder enveloped that album's last song, Gather, in which an austere piano lead lingers as mournful vocalist Nicole Sigler stretches her notes with an imperfect confidence. It was perhaps the fitting transition into their latest, The Moon Rang Like a Bell, which from the onset sets a drab, mysterious atmosphere where the piano looms throughout. After the a capella introduction of Show Me Love, Murmurs utilizes the piano to full effect, as whisps of ghostly cries and Sigler's gorgeously manipulated vocals wander past a steady, incandescent beat. Sigler's newfound R&B inflection is less a revelation and more so a natural progression, and wouldn't seem out of place if paired up against the gauzy, aquatic tones of electronic producer Balam Acab.
Hundred Waters find themselves testing a more synthetic approach, yet they're still embracing a more bucolic sense of composure. The muted drone that opens Down From the Rafters strikes the image of a funereal bagpipe procession, Sigler's echoey vocals gaining more effect as a variety of music box-like adornments lend an icy playfulness to a track that is already glazed with a frosty undercurrent. And Sigler's pious vocals would imply she's reverting back to the recherché folk of Hundred Waters in [Animal], except it takes an unexpected turn into minimal acid house with a sleekly ominous dance beat in the song's bridge that's very much in the same vein as many of the tracks Liars experimented with in their latest effort Mess. There's still a commitment to beauty, seeing as the essence of the album feels like it resides in an abundantly-forested landscape, which also goes for their vehement thirst to fragment their arrangements as impenetrable as possible.
Even if Hundred Waters continually find ways to break the stark uniformity it initially belies in its opening stretch, there's no denying the tremulous night gloom that shrouds the entirety of Moon Rang. It certainly finds itself rooted with the sparse, crystalized elegance of indie soul in Cavity and Innocence, which both follow the slow rhythms of trip-hop whilst keeping any confessions disclosed. These don't just resemble actual songs - they're compositionally arranged with focus and restraint (which may come as a surprise to those expecting a reprise of their first effort), and Sliger's torchy sensuality in Chambers (Passing Train) is situated front and center with a powerful, yet delicate force. Which is why when Xtalk, for instance, adopts a more techno-like stance with an almost anthemic feel it somehow comes across as an anemic attempt to invigorate an album that doesn't need it.
The Moon Rang a Bell ends with the rather soporific No Sound, an almost instrumental six minute piece that is determined to bring closure by casting a droning spell. It somehow assumes an air of importance, of wanting to link together an album experience when its more mercurial second half shifts gears into instantly gratifying dance cuts. Which isn't much of a detriment - the strength of Moon Rang lies in its surrounding dark blue hue, emitting light at different wavelengths. Despite the uncontrollable urge Hundred Waters have to cram in too much of their creative energy, they surely have the prowess to write an ornate pop record that puzzles out through well-crafted scrutiny.
26 May, 2014 - 04:43 — Juan Edgardo Rodriguez