Music Reviews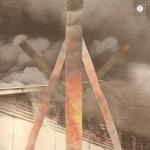 Iceage New Brigade
(What's Your Rupture?)
Buy it from Insound

Young bands enlist in the punk military just like those who want serve for their patriotic convictions. Their passion for raucous rebellion is blood deep but premature, ready to subscribe to their ideals like eager apprentices. There's no time for questioning the consequences when breaking through the red zone. The mission is simple: blaze through livid bouts of aggression in an amorphous structure without any excuses. They feed on reactions, ready to attack their prey with discordant noise modulations until they make a killing. It's all about doing the dirty work without having to clean up the mess - as long as it translates to a result.
Denmark's Iceage aren't the next elegant bachelors ready to cajole an audience with tender punk anthems. Like deprived adolescents borne out of a French New Wave film, their ruffled, slouched posture mirrors the depravity of lost youth. A look into their official blog reveals a rehabilitated group of kids who look like they've been cleaning up their act after going to juvi for menacing their school peers – or perhaps that's their way of providing lively snapshots to their supportive grandparents while they're out on tour.
Balancing the rhythmic tension of Postcard Records with the snotty viciousness of late 70s California hardcore punk, Iceage can stand proud for inadvertently fusing a miscellany of homogeneous influences into a bracing new sound. Throughout its 24 minutes, New Brigade incorporates incongruent time signature changes with anarchic indifference without catching a breath. Just like the nervy pummel of Josef K, they constantly shape shift an uncouth torrent of slicing guitars without an overt ideological foundation, sans the zombiefied rhythmic funk. Singing in slightly skewed English, Elias Rønnenfelt's warbling croon is meant to clash against a tangled web of richly textured riffs that could pass as formless for untrained ears.
This ambiguity is precisely what makes New Brigade so exciting – there's no dogged political agenda, nor a desire to sound wiser than their 17 to 19-age range. And even if it sounds like a slush of trebly clatter, Iceage manage to pack a wallop of melodic transitions in each measure. With its stop-and-go-motions, there's an evident refusal to follow the three chord paradigm, even if the abrasive stomp of Collapse and Count Me In strictly commit to velocity and outrage. They hold a no-holds-barred principle of fidgeting melodic nuances without minding the ugliness at hand, like Eye and Broken Bone, in which they stride with urgency atop a muddy quagmire. It never makes any apologies about coloring its shades of grey – Never Return skillfully thumps half-sharpened toms with an overthrow of guitar squall like idiot savants; much like the finale to Joy Division's Disorder, they cap a messy outro that progressively becomes more foreboding, wisely deciphering that it'd be the ideal way to end it.
One's tempted to presume that Iceage concocted New Brigade with blind judgment, as if it were impossible for such a young band to change the game. It appears that they even doubt themselves – in a recent video interview, the baby-faced lads admitted to being amateurish musicians who still have a lot to learn. In an age where everything has done before, multiplied times two, it's safe to bet that the ones capable of expanding their talent into greatness are the young. There's no science to Iceage's formula – New Brigade earns a brand spanking title because it's entirely unprejudiced, devoid of the qualms that taint talented musicians when they've been exposed to too much information. Reinvention is hard to achieve, so they should enjoy it while it lasts.
17 June, 2011 - 08:48 — Juan Edgardo Rodriguez