Music Reviews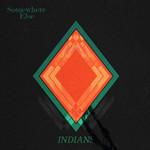 Indians Somewhere Else
(4AD)

Imagine a cross between the bucolic introspection of Bon Iver's For Emma, Forever Ago, Mercury Rev's haunted Americana circa Deserter's Songs and All Is Dream, the icy Scandinavian otherness of Sigur Ros, and the synth-led modern chillwave of the xx, and you'll get a pretty good idea of what to expect from Indians' debut Somewhere Else. The group is pretty much a one man band, that man being Copenhagen-based Søren Løkke Juul, although the line-up is sometimes augmented to a three-piece for live performances. The album's title is a true reflection of the sense of wistful longing that pervades these 10 songs. It was reportedly recorded in a studio in the Danish countryside over the summer of 2012, and the sense of isolation that image conjures in the mind is reflected in the music.
The songs here come and go in something of a reverie, and as with dreams it can be sometimes difficult to recall the finer details. Instead what remains in the mind is a mood or a feeling – in this case one of detached melancholy, tinged with wistful nostalgia. That's not to say that the songs themselves are forgettable. Some are genuinely moving, like the opener New, which builds and falls quite beguilingly, or Lips, Lips, Lips with its rather lovely ambient coda. Juul's voice can be an affecting and effective instrument, as on the folky Cakelakers, or Bird, where he sounds particularly vulnerable and delicate like a… er… bird (and not unlike Mercury Rev's Jonathan Donahue). Overall though, the album's effect is one of quiet schizophrenia, with tracks swinging gently between acoustic folksiness and ambient electronica, without really committing to either wholeheartedly.
It is mostly this disjointedness and lack of focus that prevents the album being an unqualified success, and prevents me from giving it a higher score. Politeness in music is rarely a prerequisite for greatness, and that thesis is born out here. The songs are quite nice, in a cosy kind of way, not threatening or troubling, but neither do they soar, nor make the heart swell and beat faster. Somewhere Else in the end leaves the listener longing for something else, some little bit of grist in the mill, to make the songs stick in the head and in the heart. There's promise here to be sure, but it's a promise as yet unfulfilled.
26 March, 2013 - 04:07 — David John Wood