Music Reviews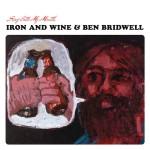 Iron And Wine & Ben Bridwell Sing Into My Mouth
(Black Cricket Recording)
Buy it from Insound

Sam Beam, better known by his recording name Iron & Wine, stepped up to the microphone and greeted a crowd reeling with anticipation. "I'm delighted to be here tonight with Mr. Ben Bridwell," he began, "who's such an exceptional musician."
"Bisexual musician?" repeated Bridwell.
Thus began the bromantic banter of two kindred artists and spirits kicking off a mini-tour in support of their new collaborative full-length, Sing Into My Mouth. The title, which itself elicits all sorts of interesting mental images, is taken from the first cut on the album: a cover of Talking Heads' This Must Be The Place (Naive Melody). Indeed the entire track list is comprised of covers, 12 in all, re-rendering lesser-known offerings with original release dates ranging from 1967 (Them Two's Am I A Good Man?) to 2006 (El Perro Del Mar's God Knows).
The wide temporal span & stylistic diversity invites experimentation, but Beam & Bridwell are instead content to recline and relax into a languid, low-to-mid-tempo aesthetic that resembles Iron & Wine with a teaspoon of horseradish added for taste. Rigid and unwavering commitment to their comfortable sound acts as an extrusion die through which source material is pressed. At the other end, it emerges uniform in shape, color and appearance. The new wave, synth-based Talking Heads opener is made over with acoustic and pedal steel guitar, while classic rock numbers like Ronnie Lane's Done This One Before come out almost entirely unchanged.
The lack of innovation brings a duality to the album's quality as a whole — existing fans of the duo, or lovers of their collective style, will find plenty to enjoy here. The two South Carolinians share an excellent vocal chemistry and showcase it in the lush high harmonies of Unicorn's There's No Way Out of Here. The pedal steel work by Paul Niehaus of Calexico, with whom Beam has previously paired, is compelling throughout but especially on a country-tinged rendition of the Bonnie Raitt ballad Anyday Woman.
The downside is that both members of Team Beamwell are retreading well-worn paths that lead to nostalgic, rather than newfound, destinations. Their curated tracklist is a (mostly) obscure hodgepodge that undoubtedly holds more meaning for the two friends than their fans.
Nevertheless, those fans still turned out in droves for one of the first stops on the supporting tour, and the first few album tracks were greeted with polite claps amid a low-level hum of chatter and drink orders. Then suddenly, everything changed. The backing band disappeared, and Beam softly fingerpicked an acoustic pattern. The hum dissolved into silence and the room stood at rapt, captivated attention. Beard bristling against the mic, he took lead vocals on a hauntingly delicate arrangement of Band of Horses' No One's Gonna Love You, with Bridwell on backing harmony. One of the band's most familiar and tired songs found a whole new set of heartstrings and tugged at them mercilessly. After a few more covers, lightning struck twice as the full band busted out a southern rock adaptation of Beam's sparse Southern Anthem that was appropriately met with thunderous applause. And there was the proof that, if Beam & Bridwell had wanted to reinvent their own material, they could have had a captivating release.
Eschewing a cash cow's milk in favor of passion and artistic vision is an admirable choice, especially when that vision proves far superior in realization. For Sing Into My Mouth, though, it just isn't. It's not that Beam and Bridwell needed to forsake their favorites entirely, but if there were ever a case for a double LP, this was it. A second disc with reimagined and rearranged material from their own extensive catalogs is a vital and missing component of the package. Do yourself a favor: go see the live show and experience what this collaborative album should have been.
5 August, 2015 - 04:59 — Benjamin Jones