Music Reviews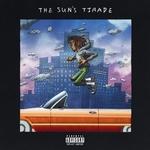 Isaiah Rashad The Sun's Tirade
(Tog Dawg)

There is a high standard held by fans for T.D.E. projects. This is understandable in many regards, particularly when you look at the label's track record of solid albums such as Good Kid, M.A.A.D City, To Pimp A Butterfly, Oxymoron, 90059 and Control System. Artists like Kendrick Lamar, Schoolboy, Jay Rock and Ab-Soul are not in any way easy acts to follow. For this reason, when another, lesser known Top Dawg member such as Isaiah Rashad takes a shot at album greatness, it should not always be graded up to the thirty foot high jump bar set by his label mates. Unfortunately, even when regarding Rashad's new album The Sun's Tirade with a bit of flexible judgment, the report card doesn't come out looking too pretty.
Rashad has a knack for rapping in the way that, well, in the way that he does it over and over again. Lazy flows (not always lazy in a bad sense, but never quite distinguishable from each other), rhyme schemes that hint at complexity but never quite make the plunge into the sea of inner, near, and end rhyme packages, and subpar lyrics. The most important one here is the lyrics. For while Rashad's technical abilities may not be entirely up to snuff, he does have something to talk about so if he could do it decently well, the result would be fruitful.
Rashad has had a troubled recent past marked by addiction and other struggles. Best wishes to him, it's good to see him back to work, but the fact is that such troubles are prime songwriting material. Clearly Rashad is aware of this, as he has used these subjects on The Sun's Tirade, but good subject matter cannot travel far without the proper words to carry it.
While the production on this album brings a multifaceted sonic support system into the picture, its own repetitive nature, along with that of Rashad's lyricism, lead to exhaustive monotony. Each song on this album makes its own point, but does it in exactly the same tone as the last. The end result is 17 tracks of one sound in a row, all bleeding into each other.
Ultimately there is not much to be said about this project. It may be easy to boost Rashad's come back from struggle as immediately equaling strong album material, without really taking the time to listen to the album. Nevertheless, Isaiah Rashad is not a terrible rapper or a lost cause of any sort. He simply has work to do.
9 September, 2016 - 04:53 — Michael G. Barilleaux