Music Reviews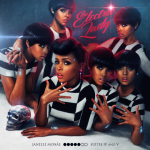 Janelle Monáe The Electric Lady
(Bad Boy / Wondaland Arts Society)

It's been three years since Janelle Monáe burst onto the scene, armed with a debut album that remains one of the most accomplished artistic statements from a newcomer this decade. Critics searched high and low for flaws, lyrical missteps, incongruous guest spots, little glimmers of imperfection that we are accustomed to finding on debut releases. In lieu of anything noteworthy, we wondered whether Monáe might have given us too much to digest in one sitting. It was a minor quibble.
The ArchAndroid announced the arrival of an intimidating new talent. It showcased Monáe as an innovator operating outside of the sphere of modern R&B, confounding expectations on each and every track, and working with artists as diverse as Big Boi and Of Montreal. An afrofuturistic concept album about a rebel android from the distant future, it managed to be both cerebral and fun. Monáe earned Grammy nominations, topped numerous end of year lists, and was widely acclaimed as one of the standout performers at Glastonbury 2011.
The task of following up such a momentous achievement must have loomed large for an artist as meticulous as Monáe. While her live show suggests an unshakeable confidence, I imagine the genesis of The Electric Lady was at least partially fueled by fear and doubt. The album may exude an infectious sense of fun from every pore, but it never quite sounds spontaneous; the level of work, the time, love and dedication that has gone into its creation is clear from the opening strains of Suite IV: Electric Overture to the glorious finale of What an Experience.
The Electric Lady immediately sounds more familiar than its predecessor, demonstrating a shift towards more mainstream sounds, both those of the 60s/70s/80s and those of the current day. Electric Lady, a life-affirming collaboration with Solange, and the simmering Miguel duet PrimeTime are the primary examples of Monáe making some sort of peace with contemporary R&B.
While there is still a degree of innovation on The Electric Lady, Monáe comes across more like an expert curator, carefully and lovingly assembling a collage of tasteful and precisely edited influences as diverse as the film scores of John Barry and Bernard Herrmann, progressive rock, psychedelic soul, and the 60s girl group sound. I can even detect a tinge of tropicália in the jaunty rhythm that launches the insanely catchy single Dance Apocalyptic.
Given his late career slump, it's refreshing to hear Prince on something as vital as the swaggering R&B inflected rocker, Givin Em What They Love. The funkiest horn section in Metropolis combines with one of the decade's more satisfying guitar solos to bring the song home in style, laying the foundation for another standout moment, the Erykah Badu-featuring Q.U.E.E.N., which in turn segues into the wonderful Electric Lady. The potential hits keep on coming for the remainder of Suite IV, punctuated by some brief radio show-style interludes, which contribute to the ongoing narrative of the Metropolis series.
Suite V consists of the less radio-friendly material; solid album tracks compared to Suite IV's more obvious singles. Lyrically, it's more direct and personal, as exemplified by the superb Ghetto Woman. Against a backing track that recalls Stevie Wonder in his 70s hey-day, it is clearly Janelle Monáe herself – not her allegorical android alter-ego, Cindi Mayweather – addressing the listener, as she pays tribute to her inspirational mother. References to Sally Ride, the first American woman in space, and Dorothy Dandridge, the first African-American to be nominated for a Best Actress Oscar, add to a loose theme of female empowerment, which is in keeping with the more serious tone of Suite V.
The Electric Lady certainly crams an awful lot into its 67-minute running time. It feels like more of a pop record than its predecessor, but that's not to say it isn't unique – it's not as if the charts are currently bogged down with madcap, genre-hopping, sci-fi concept albums, which also happen to feature guest appearances from Prince. Janelle Monáe has not simply lived up to our expectations here; she has shattered them, delivering a confident, creative, and enormously entertaining record that marginally betters her sublime debut. The decade, it seems, is hers for the taking.
16 September, 2013 - 10:05 — David Coleman