Music Reviews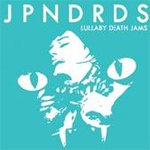 Japandroids All Lies EP/Lullaby Death Jams EP
(Self-released)

I love the name of this band. Despite the fact that there's nothing Japanese at all about Vancouver two-piece, Japandroids, (JPNDRDS), it's the type of thing that garners two-thumbs up from me simply because it's funny and I don't mind having the more childish aspects of my psyche tickled by a clever feather.

Since this decade's inception, and since the mainstream emergence of The White Stripes, the two-piece band has become commonplace. Reading the bio section of their Myspace page, Japandroids, (drummer, David Prowse and guitarist, Brian King), consider themselves "maximal:" able to take one guitar and stretch into a veritable orchestra of Hendrix-ian amplification. It's a desired effect, but not necessarily carried to fruition with their first EP.

All Lies, released in 2007, is a flawed collection of songs that reveals drawbacks with the band's framework and songwriting sensibilities. Couture Suicide, the ambitious, though repetitious, opener, relies heavily on a groove that isn't there. Because of the absence of low end, King's sporadic guitar blasts sound incomplete and the overall rhythm becomes lost, most notably when the song speeds up for a pseudo-disco finish. Avant Sleepwalk has King immersing himself into long, reverberating threads of guitar noise, overdoing it on the treble and, once again, losing the track's hook. For Coma Complacency, one of the few instances where actual lyrics are involved, King and Prowse slow up the pace and reduce the experimental guitar enough to create a cohesive melody, but then get excessive with heavy and arbitrarily placed "hey, hey, hey"s.

It's really only with To Hell With Good Intentions, a simplified, bluesy garage rocker, that the elements seem to come together. Press Corps, the EP's closer, almost sounds Wire inspired up until the pace is slowed and the mood lowered. The phrase, "Press corps/Give us something to wake up for," is repeated until the song's end.

Lullaby Death Jams, released this year, shows a significant progression. Setting things off with the shimmering, metallic edge of guitar on Darkness At The Edge Of Gastown, Lullaby Death Jams better represents the aural assault that Japandroids had originally intended to deliver. Following with the blistering No Allegiance To The Queen and the lethargic energy of Sexual Aerosol, King manages to get a better handle on his "maximal" concept. I'm sure a lot of that has to do with a smart selection of effects pedals, but there's also something more thought-out about the song structures this time around.

Lovers/Strangers, probably the best song on the EP, begins with a metal-inspired thrash riff and then transcends into alt-rock excellence. Lucifer's Symphony, an interesting and hazy variation of drone, closes the album off with a distorted noise jam.

Despite the band's progression, Japandroids would benefit from a bass player. Other than the obvious songwriting benefits that a low end can provide, the dangers that go along with being "just another two-piece" could possibly bury them under the weight of obscurity. And, knowing that these two EPs (plus an LP that released this year) were self-released, chances are they're looking for some distribution. But, if they decide to stick to their guns, at least they can hold their own. I just hope they get some notice.
27 September, 2008 - 17:34 — Sean Caldwell