Music Reviews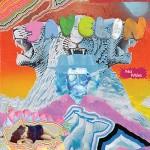 Javelin No Mas
(Luaka Bop Records)

Javelin has the same nostalgic, hazy vibe and shoegaze synth loops as chillwave pioneers like Neon Indian or Memory Tapes, but sets them against old-school hip-hop beats. There's also a penchant for lo-fi instrumentals, even if the crackle and fuzz is less apparent on No Mas than it was on their 2009 demo, Jamz n Jemz, and a recurring theme of funk and world music samples.
It's a travesty that highlights from Jamz n Jemz, like the 3-minute sex ed romp STD Fury or blisscore cartoon theme Tryouts didn't get carried over. In their place, though, are jams like Oh! Centra, which features a chiptune lead and rhymes like "I try to stroke you / you play me like sudoku". There's also a beautiful stretch through the middle third of the album that segues from fabulously retro Moscow 1980 through shit-hop instrumental C Town to an untouched Jamz n Jemz holdover, Susie Cues.
What made Jamz n Jemz so enjoyable, though, was its ADHD vibe: only two songs topped 3 minutes as the duo cycled through 26 songs in just over 45 minutes. No Mas, by comparison, does 15 in the same time – and some of the holdovers, like crowd-pleaser Vibrationz (here a full minute longer) start to feel like they drag on. Intervales Theme, one of their debut's highlights, is one of the few songs that could benefit from being lengthened a bit – but the No Mas version, almost twice as long, now figures smooth jazz piano and a faux bari sax. In lengthening the song lengths and trimming the tracklist, No Mas jettisons the spontaneous, off-the-cuff energy that made their debut so incredibly fun.
29 November, 2010 - 15:30 — Michael Skinnider