Music Reviews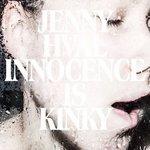 Jenny Hval Innocence is Kinky
(Rune Grammofon)

"That night, I watch people fucking on my computer". It is difficult to imagine beginning my review any other way than quoting Innocence is Kinky's arresting opening line, as there could be no better way to grab your attention. Jenny Hval is never content with a passive, unflinching listener. Her music exists to confront and effortlessly topple preconceptions – both on a musical level and on a broader political scale. On her near-perfect 2011 album Viscera, Hval offered a fascinating and disorientating exploration of sexuality and the body. Innocence is Kinky takes up the challenge of developing and diversifying from that perfectly peerless record, both sonically and lyrically.
Whereas Viscera emerged as if from a musical tabula rasa, a spacious free-folk canvas that provided a remarkable fluidity, Innocence is Kinky is more based around keyboards and electric guitars, and often recalls the melodies and chord structures of pop music. But her compositions are based on improvisations, in which her singing constantly pushes boundaries and changes direction; even as a vocal improviser alone, Hval is astonishing to listen to. The album was produced by John Parish (famous for his work with PJ Harvey), who helps run the gamut from ambient haze (Oslo Oedipus) to skronking noise-rock (I Called). There are no real choruses; her songs follow the internal logic her lyrics demand, but still, at times it is reminiscent of Hval's wonderful records under the name Rockettothesky, from which she distanced herself around the release of Viscera. Rockettothesky is a more accessible route into Hval's music, full of suggestions of the subversive directions she would subsequently take – but it seemed that Hval needed a more improvisatory, experimental platform to really tease out those themes. The sense of mystery in the floaty, minimal soundscapes of Mephisto in the Water recalls Rockettothesky's contemplative ambient-pop record Medea – yet Hval's dissonant vocals disrupt the placid tone, rising disconcertingly high as the song unravels, as if drifting away.
Viscera was about the pure feeling of inhabiting a body, and Innocence is Kinky takes up the other side of that Cartesian dual, the theme of the metaphysical subject – the body remains, paradoxically, as a conspicuous absence (until, that is, it returns, like an invocation, on the album's closer The Seer). It's a more conscious, theoretical record than Viscera. But Hval uses some of these constraints to break out and comment on the performative aspects of her songwriting; the constraints of the song form begin to mirror the constraining aspects of social performativity (reminiscent of Hval's acknowledged influence from gender theorist Judith Butler), which enables some enthralling bending of the rules. It avoids sounding like an essay, because it's so sonically adventurous, and also deeply affective; it's a self-conscious work of art, but one that always manages to take you on a journey rather than demand work.
The exception, perhaps, is her commentary on music itself as a medium, with the remarkable experimental interlude Give Me That Sound, which effectively cleaves the record into two halves. It is the musical equivalent of one of novelist B.S. Johnson's infamous metafictive interventions, the author who pointedly disrupted the flow of his novels to comment upon their limited constructedness. Similarly to how Johnson once interrupted his narrative to exclaim "Fuck all this lying!", Hval stops her album dead in its tracks – "I need a song now, / But there is no sound. / Give me that sound." What follows is a Swans-inspired blast of grinding feedback in the right speaker, Hval's primal howling in the left – snipped off at either side, an overwhelming yet contextually dislocated blast. It is her author-voice intervening, drawing attention to the limitations of an album of music. The piece is an excerpt of Hval's sound installation A Continuous Echo of Splitting Hymens – as in, "I want to sing like a continuous echo of splitting hymens". Hval parodies this connection between masculinity and "extreme", heavy music, and responds to Swans' comparable attempts to make music that evokes both oppressor and oppressed.
While a great deal of the album's power is the way it unfolds on an affective level, it's possible to trace a political impetus underpinning her approach – most unmistakably, Hval emphasises the feminist agenda behind her writing. I Got No Strings concerns "the impossibility of becoming an equal, female subject or finding an equal voice". The song's narrator compares herself to Pinocchio; a wooden, disempowered version of a male subject – but there's hope, too, for a reclamation of language, a reconfiguration of that inaccessible male subject "I": "I place it on my tongue! / And whirl it around. / I make new words. / Words that I can use." Here it is apparent why the musical form is so important to Hval as a form of disruption of language, taking her writing to dimensions further than the page, emphasised by her melodic unpredictability.
She also detects ways in which this struggle for feminine agency is exacerbated by the internet – in the record's title she picks up on that paradox of a commodified, fetishized, "innocent" female subject, and parallels it with the dehumanising, desubjectifying tendencies of internet porn in all its ubiquity. Linking these themes back to their very inscription in the very English language ("bare and barely" she murmurs on Renée Falconetti of Orléans) as well as reinscription in the new media – where images of nude bodies are a limitless commodity, yet discourse is entirely depersonalised; thus desire becomes alienated, ("like sex without the body", as she whispers on the title track), patriarchy is invisibly reinforced. Hval draws attention to these patriarchal orthodoxies, forcing the listener to confront gender politics right from the very first line.
I've written in a self-consciously academic way about this music, at risk of diminishing its sublime effect on me – but perhaps this is the best way I can express how profound this confluence of personal and political can feel. I expect that critics will soon have written enough essays on the myriad themes across Hval's ever-growing body of work to fill anthologies – but at the same time, this mind-expanding record will inspire a more inexpressible connection: you will carve your own niche within its deep and absorbing textures, and you will find new things upon every listen.
24 April, 2013 - 04:37 — Stephen Wragg