Music Reviews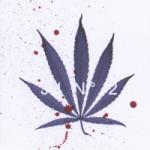 jj n° 2
(Sincerely Yours)

There are plenty of albums that are easy on the ears, but most of them slip by and go in one ear and out the other; they are perfectly pleasant and enjoyable, but endlessly forgettable. There is, however, that rare album that goes down easy and stays there. The one that sticks and makes you want to go back for more. jj's n° 2 is sticking with me to the point that I had a dream about it the other night (though that may not be saying much - I had one the previous night where I was at a Muse concert where they played nothing but Rage Against The Machine covers, and I haven't listened to either in months). But whether my dream meant something or not, this is still an excellent set of songs.
In n° 2, jj has crafted an incredibly unique pop record that is both straightforward and experimental. It effortlessly hops genres from hip hop to African pop to acoustic lo fi, all while sounding like an ambient band underneath. Early on, especially on from africa to malaga, they come off as an ambient, poppy Abe Vigoda. One song later, the Lollipop sampling ecstasy is the where the hip hop influence is most obviously heard. The presence is also heard on songs like my love, which sounds less sonically and more lyrically akin to Wheezy. It finds the unnamed female vocalist singing "I only want to take you for granted," just like Wayne on Tha Carter III highlight Comfortable. They continue to jump genres from keyboard laden pop on masterplan and then acoustic lo fi on album closer me and dean.
Despite the hot and cold relationships presented in my love and me and dean, the album is, for the most part, a feel good record. It manages to be such an album in as many ways as it hops genres; it can be summery (ecstasy and the African-tinged from africa to malaga), peaceful (are you still in vallda?, things will never be the same, which lyrically isn't actually all that cheerful, but is motivating and positive), and even tropical in the beach-y sense (intermezzo, masterplan). jj is making nostalgic party music for the future, and they (most of the time) just want you to be happy. Like they say on masterplan, "you'll never win/don't mind lets go for a swim/believe what your dreams may bring". It's Don't Worry Be Happy, just way less irritating and a whole lot better and more insightful.
In addition to being lyrically warm, it's an incredibly comfortable soundscape. I'd feel just as happy listening to it in my bedroom in front of my computer or (hypothetically) on beach in Hawaii. It's clear that jj have the soul of an ambient band in the way the songs seamlessly flow together or create a mood as malleable and perfected as they have.
For all the above reasons, jj have crafted a truly fascinating album and one of the best hidden gems this year in n° 2.They hop genres without sounding scattershot and sound organic whether using samples or live instrumentation. Sometimes it's hard to draw the line between the two, but maybe that's the point. It doesn't matter how they made it or even who made it; no one knows who they are and it doesn't really matter. jj have still offered up a completely new take on old ideas and a completely new kind of insightful, motivating feel good summer album.
21 July, 2009 - 17:13 — Andrew Baer