Music Reviews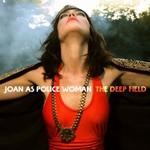 Joan As Police Woman The Deep Field
(Reveal)
Buy it from Insound

Joan Wasser's debut album - Real Life - opened with her standing in line at the post office, idly daydreaming of taking love for all that it's worth, and resolving to be open more about her feelings by naming the object of her affection in the lyrics. At a live performance from around this time she confided to her audience that the man in question – Jonathan - had given the song she publicly dedicated to him a lukewarm reception and nothing had come of it.
Her fingers may have been burned but her new album is informed by the same emotional honesty and directness that drove her earlier work; the conviction that when it comes to love, you should travel as the crow flies, rather than waste time going around the houses. The Deep Field opens with the line "I want you to fall in love with me," setting the tone for a record driven by a resolute sense of longing - strong words weighted down with desire, where you can hear her willing an affair to last long enough to "make it to details."
Wasser is often regarded as a solo artist, but this album leans heavily on a group of backing musicians with a hand in the creative process; the individual players given the freedom to add their own tiny embellishments, infusing the ten songs with air of impressionism, where small veins of beauty linger in between the layers of instrumentation: Typical of this is the slinky, chilled-out ballad Kiss The Specifics, where the line: "I dreamed that I swam to the bottom of the sea" is followed by a muffled, disjointed bass line that sounds like a string of bubbles rising lazily to the surface.
A low-key horn section drives the sound into the territory of introspective soul music, that is less a projection of a personality or an emotion into a room and more a journey into the strange realm of the human heart.
It's the band that gives The Deep Field a sense of continuity. The album is structured like a live set that rides to an ecstatic climax three songs from the end, with Chemmie's abandoned, wailing coda. It's followed by what amounts to a two song encore: Forever And A Year is murky and reflective - the album's one real moment of self doubt. I Was Everyone expands its horizons beyond the power of love, with Wasser aspiring to be the kind of person who has the courage to do the right thing in any given situation. The song steadily picks up pace, slows down slightly and then returns with renewed momentum and purpose. Its drawn-out climax is the sound of a band who have been playing with restraint and deference suddenly going nova, the guitar player let off the leash, the drum fills tumbling in the background and the final gurgles of organ draining away a few seconds after everybody else has finished playing.
As much as The Deep Field concerns itself with Joan Wasser's considerable emotional needs, this is not a self-absorbed record. It's a big, open-hearted statement on the best way love in a world where "good living requires smiling at strangers."
9 March, 2011 - 14:14 — Sam Redlark