Music Reviews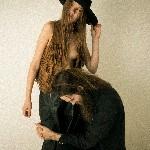 Josh T. Pearson Last of the Country Gentlemen
(Mute)
Buy it from Insound

Josh T. Pearson may well be one of the most elusive characters in modern underground music. Enigmatic on stage, he occupies a gravity and space that is very seldom seen in modern musicians. There's something about Josh that, if you have had the pleasure of seeing him live, makes you feel connected into another world, tapping into some other place. Texas born, he burns with an energy that cries to the heavens. His soul searching country sings of existential sadness, his quarrels with God and his wrath at love and loss.
Back in the nineties, Pearson was part of what has become a critically revered post rock, post psychedelia band, Lift To Experience, a whole other world of brilliance that you should definitely dive into. Since the demise of that band Pearson has been wandering, parts lost, part in battle with his muse, popping up from time to time to rattle an audience here and there in Paris, Berlin, Texas, and luckily for me, Leeds. Pearson's live reputation now precedes him; electrifying acoustic torrents such as The Clash and Angels vs Devils have become somewhat legendary. Seeing Pearson at his most incendiary, almost possessed, is like nothing else.
His reputation as a lost genius is not unwarranted. A wandering soul, it seems he has never been quite ready to grip this gift he has for music fully and realise its enormity. I would go as far as saying it is a life altering, or life jilting experience watching him in full flow. By no means am I overstating it, this man has presence, the call of a preacher, the anger and torn sadness of a man burnt by faith and betrayed. Riddled with questions, searching for answers.
If the mythical story of Robert Johnson at the crossroads has any truth to it, we can draw a definite line from there through to Pearson. That sense of the otherworldly American traveller that has become the archetype of the American folklore, just a man and his guitar, giving you his soul.
Last Of The Country Gentlemen is about as intimate a portrait, as deep a story and as beguiling a listen as you're going to get this year, or any other year for that matter. Haunted with passion and distilled emotion the songs sprawl like a silent wind battling over dark dusty plains. It may only just break the silence, ever so slightly, taking you into deep thought, trance like as on Sweetheart I Ain't Your Christ, powerful beyond power, its poetry is in the shape it weaves as it takes you on. Quietly asking, they build into rattling stories of self defying torment, lyrics ache at the pain - "...When I said I'd give my Life, I wasn't talking 'bout Suicide".
Woman When I've Raised Hell is a beautiful haunting country ballad and hits at the very heart of this records magic and Pearson as the lonely traveller. Where many disguise their demons, Pearson seems enveloped and interlocked with his, wrapped in his own personal apocalypse. His passion and indeed the trappings of his muse hold the power that pushes him to create but at the same time plum the depths of his torment. As the saying goes "contentment is the enemy of invention."
What is created is a deep and penetrating landscape as on Honeymoons Great, Wish You Were Her, a blackly comedic song title and another stab at his own state but a song of mesmerising intimacy. Vocally shifting in mood between bitter sweet animosity and cradling subtle whispers, his voice is the focus, the music follows him like a ghost. Eloquent bordering on violence; not in a heavy sense, just in the way Josh strums; the patterns are uneven and the songs aren't necessarily in one shape or on a set route, they take you for a curious roam.
Lyrically there is much sadness, and self deprecation as on Sorry with a Song - "My whole life's been one cliché country unfinished line, after line, after line, after line". It's a hard depth of a listen, pained and soulful, but isn't that what true graceful art is all about, taking a leap into the depths. Once you press play on this wonderful record, Josh T. Pearson will take you with him. It might be painful, but you will savour every tear and be thankful for the bruises. Be greatful for this dark pariah.
21 March, 2011 - 12:15 — Marc Higgins