Music Reviews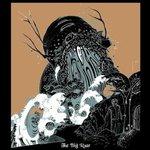 The Joy Formidable The Big Roar
(Atlantic Recordings)
Buy it from Insound

From the moment you enter into The Big Roar, there is a sense of purpose and deliberation that is so lacking in most debut records. The Joy Formidable have done a wonderful and brave thing: this record is built on an air of the terrible and the terrified – it is threatening and exhilarating and loud as necessary, with homologous moments of quiet tension that provoke and stir the sense of trepidation with excellent skill.
It starts with the cover art, which depicts a vast sea monster bearing down upon the band as they crouch hidden by their doorway. They clearly have a subject matter to explore and so The Everchanging Spectrum Of A Lie begins the torment, developing from a comforting series of crashes and bumps into a fleeing series of riffs, over which Ritzy Bryan asks cautiously "How else can a shadow / behind her not follow?" There's an unremitting sense of the unnatural as she chants ominously onwards that "the dangers are showing / any kind of weakness"; it's one that haunts the rest of the tracks equally well.
However, the deeper the rabbit hole twists down into the record, the less clear it becomes whether this monstrous sense of threat is some furious flight of fancy or an altogether more metaphorical descent among the horrors of some disturbed self. I Don't Want To See You Like This suggests the latter as Bryan confronts some emotional chaos, deciding that "this is the past right here / I choose to leave it here"; convincing herself that "I can see us here / without this fear" it proves itself an epically compassionate message of hope as much as anything. And so, against propulsive rhythms it thrusts the record forward past the current single Austere and into A Heavy Abacus, a potent mediating track with which to pivot the mid-section of the album, transferring to a slowing, shifting pace suggesting only uncertainty and frustration; Bryan the while torments herself cruelly in third person with lines like: "now your world is here / watch it disappear".
At this point, however, one of the few problems with this record suddenly rears its head; it's the three tracks that we've seen before: Austere, Whirring and Cradle – all worthy and strong in their own right, but they just feel a bit misplaced, especially the first two. It's as if they've been indiscriminately parachuted into the album, even if only to stockpile some singles material and add some ironically unneeded support to prevent any mid-LP sag. This inquest feels a little fastidious though; I like all of these songs, so I won't press the issue.
If then, on a technicality, normal service ever went missing, it's certainly quickly resumed. And songs like Llaw = Wall and the ferociously brilliant riffs of Chapter 2 demonstrate their extensive means with which to contrast light and dark tones; punching, violent highs, and reflective, steadied lows, and all within three minute songs without a hint of grating - they're a talented bunch. The Greatest Light Is The Greatest Shade then closes the record, it's almost summative in its sound and as Bryan breaths softly across the trademark guitars "This Dream is / this dream is / in a telescope now", a suggestion that her inner turmoil is becoming a distant memory, and this is then confirmed by the comforting echo as her final line reveals convincingly "I can be / happy for you" – closure.
This is certainly at times a dark and oft thought provoking record, but at the same time it's not shy of serious hooks and gripping tunes. I might now remark on such an achievement for a debuting band, but of course they have already put out 'mini-album' A Balloon Called Moaning; and re-released single Austere, among a raft of others, has been kicking around since as long ago as 2008. The welsh trio have taken their time to reach this point, but with The Big Roar they have taken their opportunity with great style, producing what I think is a mature, clever and exceptionally listenable record from start to finish – and that's a mighty thing.
25 January, 2011 - 23:08 — Joe Iliff