Music Reviews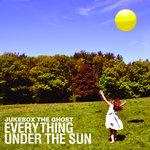 Jukebox the Ghost Everything Under the Sun
(Yep Roc)
Buy it from Insound

Philly-based three-piece Jukebox the Ghost play simple, sunny power pop, not a little influenced by Yes and their fellow prog-rock titans. They've built up quite a reputation for their energetic, crowd-pleasing shows – not surprising, given that they've played more than 300 since their last album dropped (including a 2009 tour with Ben Folds). Their biggest hit to date, Hold It In, from 2008's Let Live and Ghosts, boiled down to three minutes of 'she loves me, she loves me not' (and, oddly, references to Grease and Boys Don't Cry), so you know going into Everything Under the Sun that you're not in for a 40-minute emotional rollercoaster. That said, it's easy to underestimate the band's songwriting chops, especially given their cringe-worthy lyricism. If Hold It In wasn't testimony enough to their ability to write songs cute enough to cheer up even the most black-hearted nihilist, look no farther than lead single and standout track Empire for further proof.
There's a fine balance between too much sing-along pop and too little, and Empire hits it right in the middle. It has too much energy for listeners to just bask in its mood, but not enough to inspire them to rock the fuck out. It doesn't feel hyperactive or twee, but at the same time, it's not restrained: it's just honest. Somehow, Empire is laid-back and bubbly at the same time. Electric with energy, it's endlessly replayable.
Elsewhere, though, they don't get the balance right: Carrying tries to mask its twee-ier sensibilities in the occasional guitar squall, but it doesn't work. Half Crazy starts off with a riff so power-poppy that it could have been taken straight from a Bowling for Soup b-side, but the chorus is all joyous synths and ascending falsetto lines, so saccharine it bleeds rainbows and sunshine.
On the other side of the divide is The Sun, one part of a massive twelve-minute prog epic that was eventually pulled apart in studio (the other two parts becoming The Sun (Interlude) and The Stars). The mid-section breakdown seems to channel the 'Galileo' section of Bohemian Rhapsody, and there's plenty of massive, overdubbed guitars, but the further in you get, the harder it is to tell what purpose this buildup serves. By the time you're two minutes in, you're getting used to hearing elements strung together solely for the purpose of continuing to build the song. Guitarist Tommy Siegel describes it as a love song based on Stephen Hawking's "A Brief History of Time", which is pretty terrible however you think about it. It's a ridiculous, four-minute buildup to a climax we never reach, so overlong that it implodes on itself well before the 3-minute mark.
Ironically, after all that buildup, The Sun just segues into a downtempo piano track, So Let Us Create. It's a fairly sub-par song: sounding like a mash-up of Rufus Wainright and Paul McCartney, it features an extended, arrhythmic piano and voice denouement, and unchecked falsetto. It's worth noting, though, because it reflects the way Jukebox the Ghost uses drums and guitar to give their songs the kind of drive that keeps them from sagging into Coldplay-esque piano pop: as they're largely absent on So Let Us Create, the song lacks bounce or energy, and just makes keyboardist/vocalist Ben Thornewill's tacky lyrical narrative all the more annoying.
The logical opposite to So Let Us Create is The Stars, where the drumming seems to change every two bars and the guitars are going full-force. It's introduced by a minute-long interlude, which at first glance seems like far too proggy a concept for a band whose self-professed motto is to "make it danceable" – but it leads straight into an extended guitar jam. There's beauty in the way the song captivates the listener as it jumps from one mode to another hyperactively – synthpop to prog rock to indie pop and back to prog again, all anchored by drummer Jesse Kristin... it's an incredible listening experience. The Stars ends up being the only song on the album that can truly be described as 'epic' – and danceable, too.
The penultimate track, The Popular Thing, is another example of how Kristin's drumming keeps the poppier songs from getting out of hand: Popular Thing is all hand claps, falsetto harmonies, and shakers. Despite a few harmonic curveballs in the last half of the chorus, with a refrain of "Everybody's doing it", it's a pop gem. The album ends on an unfortunate note, though. The band shot for an epic finale, but Nobody is forgettable as an album closer: a blatant Beatles knockoff with dragging chord progressions and bland lyrics, it takes a long time but never really goes anywhere.
On first listen, it's hard to believe that this album was produced by Peter Katis, he of brood-rock production fame (see previous clients, The National, Interpol, etc). The more you listen, though, the more similar Jukebox the Ghost and The National seem – although Jukebox the Ghost is both far less morose and far less lyrically gifted (cringe-worthy examples abound, but one particularly tasty one is that of Thornewill describing Empire as "an extended metaphor of the heart as a castle"). Unfortunately, though, this record is just too erratic to ever become as great as other Katis-produced album. Masterpieces like Empire are set against Beatles-meets-Boo-Radleys pop operas like Mistletoe. It's the same even within songs: Carrying features stellar glockenspiel work and a beautiful chorus, but uncharacteristically poor drumming and a gaudy ragtime piano solo. Perhaps the most damning indictment is that the worst songs are all similar enough to blend into each other. Jukebox the Ghost has done a lot to bring oft-maligned prog rock back into the indie pop eye, but perhaps more importantly, cuts like The Stars and Empire show Jukebox the Ghost has the ability to write spectacular pieces of pop music.
15 September, 2010 - 07:21 — Michael Skinnider