Music Reviews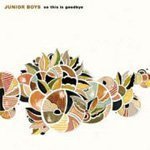 Junior Boys So This Is Goodbye
(Domino)

The Junior Boys have yet to join the bandwagon of moniker's that ostensibly suggest them to be from somewhere else. With 2006's king of indie hype assuming the capital of Lebanon as his pseudonym, I'm still left deciphering the link between bombs in Beirut and Postcards from Italy. The mention of this Italian correspondence leaves me optimistic that Zach Condon will traverse the Balkan's eventually, and reunite with his 'innate' gypsy scene once again. That way I can continue my trail of accusations and disclose that Indian Jewelry would never make it in with Bollywood bling. Perhaps I'm overlooking some fine evidence, or perhaps these allusions do nothing to defend the music.
But standing outside all this figurative madness, the Junior Boys are actually akin to their hometown of Hamilton, Ontario. Surrounded by the hurricane curl layout of Lake Ontario and Erie, Hamilton is the meek post-industrial metropolis where So This Is Goodbye found its muse. If setting says anything for psychology, the Junior Boys synthesize the air hovering south of Toronto and North of Niagara Falls as well as asphalt describes modernity. While Last Exit was laden in the blue drift of the urban underground, So This Is Goodbye is more ethereally possessive, coalescing moods to lather in a swift haven. Throwing waves of delicate sound that graze like blinking lights through the auras of infrastructure and terra firma, I'm glad they didn't call themselves Yukon in the name of the evocative tundra (band status: taken), though I don't think anyone's claimed Reykjavik yet.
With Jeremy Greenspan as the reigning Junior Boy veteran, his involvement across the Boys discography defends the sculpture of the album's creative innovation. Taking conventional song structures into vast electronic trajectories, his talent as both a vocalist and collaborator boasts with alchemic synthesis (Banhart and Billy, hail another breakthrough beard). After the departure of his initial counterpart Johnny Dark, who split from the Boys before Last Exit was even released, Greenspan carried on before allying for So This Is Goodbye with synth production aficionado Matt Didemus. Together, the new Boys radiate confessions through dead air space without sacrificing the dance floor; knocking their spacious jogs through wispy, aural landscapes with dense, resounding columns of synth. Producing a sound that is more lascivious and shrewd than its predecessor, the album's delicate synth loop safety nets meet thick, boisterous beats with formulaic attention, proving Didemus as a mastermind of production. Count Souvenirs and In the Morning radiate the album's converse aspects of human fragility and self-solidarity, alongside ubiquitous vocal juxtapositions that enrapture the album. Count Souvenirs rolls with eloquent revelations (see: "hotel lobbies like/painful hobbies that/linger on") while insidiously pleading "Please/Please Don't Touch" over brash interjecting hyperventilation. The same tactic is repeated on In The Morning, which finishes by punching a synth breakdown reminiscent of laser lights that would epitomize a sci-fi victory parade.
Yes, I'll break this down: there are two major entities standing on the battlefield outside Greenspan and Didemus, resounding in the form of two valiant swords named 'keyboard' and 'laptop'. At the peak of this manifestation is the monumental keyboard, where throwing electronic octaves comes by playing hopscotch (to all those kids who have ever commuted through Singapore International). As the tactics of their sorcery is lost to me, this gigantic toy stands as my major technical reference point (see also: Big), blatantly displaying my bewildering electronic naivete. To impose validity, I spent many pending boarding calls caught in the transience of airport equilibrium with this melody maker, and the closing track FM mirrors this concept in infinite ether. The song may just be the most applicable soundscape to staring out the window of a dystopian incubator (see: Boeing 747), cruising in complete austerity at 32,000 feet.
Meddling mood with infamous gain, So This Is Goodbye proves the Junior Boys as innovative purveyors of electronic. Their somniferous aesthetic ploughs while their pulses punch, and in turn they have created this mastermind of aural perfection. The molecules may just resound in unison: "Layer the synth, fine boys of Hamilton! Crush it to make us clap our way through the heavy tundra, illuminated by the aurora borealis, and we will stir, tap, shuffle, and glide!"
As for assuming the responsibility of the emergency exit - be wary - the Boys might just coalesce you into jumping from industrial confrontation with the universe.
8 December, 2006 - 23:50 — Tara Campbell