Music Reviews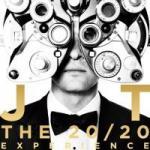 Justin Timberlake The 20/20 Experience
(RCA)

I find this album less and less ridiculous the more I listen to it, which is pretty much the opposite of what I was expecting. In fact, the first thing that hit me (well, after "Geez, JT sounds more like MJ all the time, doesn't he?") was how needlessly bloated each track was. I thought I'd accidentally stumbled on some deluxe version where each song was immediately followed by its own remix. The first track, Pusher Love Girl, was especially painful for me in that regard. Why after the easy ending at the 4:43 mark does it just. Keep. Going.? Well, that's the exciting part after a few reluctant spins. Yeah, the lyrics are unreasonably silly ('My nicotine/My blue dream/My hydroponic candy jelly bean'), but I'm completely willing to attribute that to JT's SNL-grown comedic chops. But man, those beats are catchy, and the production is so smooth, it covers a multitude of sins. I'm sure we have Timbaland to thank for that, but don't discount Timberlake's voice: it's all smirking syrup.
Yes, the whole record is like this. It's one bloated, over-hyped seduction attempt after another. I like to imagine JT moving from one girl to another as the album progresses, just dancing and fucking his way down some cosmic, futuristic runway. I'd particularly like to meet the recipient of the absolutely outrageous Space Coupe, because that bitch straight up gets to bone down on the moon. And we can hear her moaning, it's so good. If that's not meant to be hilarious, I give up.
My only major complaint, after getting over the initial whateverness of it all, is that there doesn't seem to be any surefire standout dance number. I'm happy to let it slide as both a maturation of style and a consequence of releasing an incredibly anticipated record after a seven year hiatus. But this is Justin Timberlake, and I also feel justified clamoring for a real dance-pop club number. I could easily have taken another Rock Your Body over yet another sprawling orchestral peacocking session.
But you know what? This is a pretty damn good album. It's conceptual, fully realized, and tongue-in-cheek seductive. None of the lilting, Disney-esque 1950s style orchestrations seem at all out of place. The backing beats are tight and original. With the exception of the single Mirrors, which seems best suited for a supermarket checkout line, The 20/20 Experience is an absolutely delicious guilty pleasure. Though Strawberry Bubblegum isn't my favorite, it really encapsulates Timberlake's first release in seven years: neo-soul overlaid on some solid R&B and interesting instrumentation, complete with a satisfying (and literal!) "pop." We've all heard the now-famous quote that this album is "music you can hear," but it's music you can taste, too.
22 March, 2013 - 04:29 — Gabbie Nirenburg