Music Reviews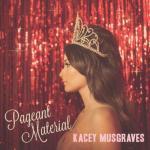 Kacey Musgraves Pageant Material
(Mercury Nashville)

When Keith Hill shared his wisdom on how to increase ratings for country radio stations about a month ago, the hue and cry of female country artists was heard across the board, and justifiably so. In a genre known for being an old boy's club, the artistic output of acts such as the Pistol Annies or Carrie Underwood is often woefully underrated, and the legacy of veteran heavyweights like Dolly Parton or Reba McEntire sadly undermined. Yet the girls plow on. After 2013's Same Trailer, Different Park, Kacey Musgraves multiplied the gravity of the loss we would experience if the amount of female voices on country radio were further reduced.
It was a masterful debut. Musgraves' voice was (and still is) friendly, unassuming, and emphatic, as though she would be just as comfortable discussing the specifics of yesterday's lunch as she would be defending her right to smoke pot or fall in love with people of both genders. And that, it seems, is Musgrave's credo: just do whatever you want. On Same Trailer, Different Park, it was beautifully expressed in songs dripping with bittersweet optimism and tinged with back-country sadness (hear Merry Go Round or Blowin' Smoke if you need proof).
Now she's back with sophomore album Pageant Material. For those familiar with her music and her style (and admittedly, it doesn't take long to understand Musgraves' shtick, even if it is flawlessly executed), the title's irony is so obvious as to be threadbare: obviously she's not pageant material, guys. She's just a regular girl, higher than her hair, as she says in the title track. Self-acceptance and irreverence towards the senseless social mores that tie people down and oppress their individuality make for a number of great songs, but if by the end of the second album they're still singing about how it's ok to be someone no one understands, it's hard not to feel like the spurned pageant girls might have some more interesting stories to tell.
This isn't to say that Pageant Material is a shoddy effort. Musgraves has a talent for coming up with the snappiest of zingers, adding cute twists to clichés and communicating uncomfortable truths in ten simple words or less. She does this particularly well on Somebody to Love and on lead single Biscuits (''Mind your own biscuits and life will be gravy!''). Her paean to her home town, This Town, is a perfectly crafted gem and reminiscent of the best kinds of folk songs. Good Ol' Boys Club sounds like a perfect musical dismissal of Keith Hill's expert analysis, and tracks like High Time and Dime Store Cowgirl are rollicking three and half minutes of country fun.
Yet even still, the songs have a slightly ready-to-wear feel to them. Musgraves plays up her lyrical prowess to the detriment of the instrumentation, which is crisp but generic and unremarkable. Neither is there much stylistic variety in terms of vocals or even the attitude Musgraves brings to her songs. Not all of them are about doing your own thing, but much like Blake Shelton and his pick-up trucks, all of them have the same thematic underpinning: love yourself, you can't please everybody, other people are hypocrites. Understandably, when people like what you're doing, it makes sense to give them what they want. For Keith Hill, that's more testosterone; for Kacey Musgraves, it's empowering one-liners. Both of them, however, only succeed in proving a point that so many elitist music connoisseurs enjoy making: country music, regardless of the artist's gender, too often sounds the same.

29 June, 2015 - 04:17 — Luiza Lodder