Music Reviews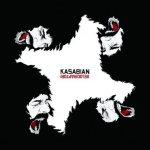 Kasabian Velociraptor!
(RCA)

Since their eponymous debut album in 2004, Kasabian have become 'Britain's biggest band', and without truly assuming the usual majesty that such a role confers. These most unlikely heirs have benefited from the absence of others on the pop-based guitar rock scene: U2 took over the world, Oasis fell upon its long sharpened sword, Muse went into orbit and forgot to come back down to earth, and the Arctic Monkeys steadily resigned themselves to making subtler music. And all the while the Leicestershire band has grafted away to promote their dubious claim to the throne. It was their third album, the deservingly acclaimed West Ryder Pauper Lunatic Asylum, which saw them depart most dramatically from their lad-rock roots and cement their place at the head of the table.
Velociraptor! essentially attempts to perform the same trick as its predecessor, it has a similar share of Meighan's crooning balladry, high-tempo potential singles, a few exotically rooted influences and even the token blurry dance track. But, in gesture to Kasabian and Empire, there's a raft of solid mid-tempo rock 'n' roll to fill it out and give it some body. It certainly wouldn't be too much of a generalisation to describe it as a blend of their first and third records – the two better ones in my opinion, as it happens. Whether that's a step forward or not for the band is almost of little consequence, this feels like a consolidation album, to balance the successful experiments of their last record with what had gone before. Important then is whether they've pulled off a worthy equilibrium, or been reduced to compromise.
If they were ever trying to dismantle the Oasis indebted typecast*, this album does them absolutely no favours, proving a regression from the relatively mountainous intellectual heights of the last record. The title track, Velociraptor!, has the sonic qualities of the first album, and the brutal, mindless stupidity of Empire, the result remains largely undesirable. Goodbye Kiss fails to achieve emotionally charged balladry replacing it with an air of farce, hilariously beginning with the inimitably bad line "Doomed from the start / we met with a goodbye kiss / I broke my wrist". It makes for a concerning (but inadvertently entertaining) piece of song-writing from a supposedly experienced band.
La Fee Verte and Acid Turkish Bath (Shelter From The Storm) are welcome and fitting reminders that this band are really at their best dealing with mid-tempo psychedelic rock, the former recollecting absinthe fuelled hallucinations set to funeral-march rhythms and sweeping, wandering strings in one of the darkest and finest songs Kasabian has had to offer. Their other more sure-footed attempts are the steadier, dance based tracks, the fuzzed-up frenzy of Switchblade Smiles, like Vlad The Impaler on the last record, is riotous fun; while the trance quality of the synthesisers that perforate erratically through I Hear Voices brilliantly asserts the band's unrealized potential to make a serious dance record.
But ultimately none this of this sounds like ground made by the band. They've neither perfected their art here on Velociraptor! or made positive alterations to it. For Kasabian fans this will be a fine, perhaps even happy result – another album in a similar vein to satiate your lust for new music, but the nagging thought catches as it wonders how new, interesting or innovative any of this really is; the short answer is no, it's not. However, given the band's somewhat precarious position heading the bill of British indie rock, Velociraptor! should prove an unqualified success in keeping them there – and that, we should suspect, is exactly what it was designed to do.
*A subtle (and somewhat barbed) point: since all but everything Oasis have ever written is the work of another dressed up in minimalist masquerade at best, it seems a pertinent and highly amusing suggestion that Kasabian are in fact paradoxically drawing on a great wealth of influences – but not Oasis.
6 October, 2011 - 08:53 — Joe Iliff