Music Reviews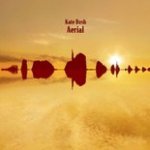 Kate Bush Aerial
(EMI)

There aren't many artists who can take twelve years to make an album, fob EMI record-company bosses off with biscuits after eight years of promising new material, descend into prolonged periods of inactivity while they wash clothes and drive their son to school, and then finally deliver a double-disc concept piece including a song that cites pi to nearly a hundred decimal places.
Of course a lot of the stories surrounding Kate Bush's album Aerial are to be taken with a pinch of salt. Tales of nervous breakdowns, enormous consumption of marijuana, and even the biscuits are supposedly entirely fictitious or exaggerated, but are welcome components of the limitless Kate Bush myth.
Aerial is Bush's eighth album, and comes 12 years after the minor disappointment of The Red Shoes. And while in the outside world, grunge, Eurodance, Britpop, trip-hop, and a myriad other genres have been born and fizzled out, little of this seems to have penetrated Bush's conciousness - Aerial sounds much as Bush has since she took the reins of production on her third album.
The first of the two discs, A Sea of Honey, contains tracks written over the past eight years. As ever with Bush, you can't predict the subject matter, opener and recent single, King of the Mountain, conjours images of Elvis and Citizen Kane. Other songs on the first disc cover, with almost surprising directness for someone famed for their oblique style, the craziness of fans (the rocky How to be Invisible), Bush's relationship with her son (harpsichord led Bertie), and the death of her mother (keening and gorgeous A Coral Room). On the latter two tracks Bush shows her supreme ability to combine literariness with raw emotions in a way of which lesser artists can but dream.
One wonders if Bush is playing up to her reclusive kook stereotype. Is she really telling us that her life is so insane she envies a man obsessed with circles in Pi? Or does she really have nothing better to write about than wash day in Mrs Bartolozzi, a song that contains the unbelievable chorus of "Slooshy sloshy slooshy sloshy get that dirty shirty clean". But in fact, these are just Bush's personal reference for the listener to wonder about and revel in their absurdity. Both songs are sweet Bush balladry at its best, Bartolozzi poetically evoking sex, with images of a tumbling tangle of limbs.
If the subject matter on the first disc seems confusingly mundane, maybe it is preparation for the second, A Sky of Honey. A concept piece about 24 hours in the life of the Bush family. From birdsong at dawn in Prelude, to an encounter with Rolf Harris as a street artist in The Painter's Link through Sunset, Nocturne, and the following wine soaked dawn of Aerial. Although the second disc lacks the standout moments of the first, it makes up for it with a consistent level of sumptuous keys, narrative arrangements, and moments of Kate trying to immitate birdsong.
For all the births, deaths, and marriages over the past few years, for the allegedly voracious soap habit, for the patience of EMI, and for the unashamed smartness and geekiness of Bush herself we should be grateful. Lavish, eccentric, intelligent, and raw, Aerial is, if not quite as good as Hounds of Love, equal to Bush's best other work. Unchanged in decades and untouched by fashion, Bush remains a fascinating treasure.
24 December, 2005 - 00:00 — Peter Hayward