Music Reviews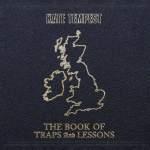 Kate Tempest The Book of Traps and Lessons
(Fiction)
Buy it from Insound

It's difficult not to talk about Kate Tempest in cliches. She really does sound like a definitive voice for the past decade of austerity. She really does transcend genre and form. She really doesn't sound like anyone else in popular music. All of this lazy writing is only heightened by the knowledge she'd be able to come up with something more witty and succinct—although she'd likely be too modest to do so.
So perhaps it's easier to start with the facts. Tempest is by far the most recognizable poet in a generation, with two Mercury Prize nods for her traditional albums (2014's Everybody Down and 2016's Let Them Eat Chaos) plus an acclaimed collection of poetry and stage writing. Maybe part of her appeal is that she isn't trying to appeal to anyone in particular, consistently creating and waiting for people to gravitate towards her. First, it was her peers, then the critics and, around the time of Let Them Eat Chaos, the wider public.
Much of her appeal is her sense of unpredictability. ...Chaos' sound was wonderfully fractious (to the extent it could have been how The Streets would have sounded if they were a decade later and Mike Skinner had listened to his English teacher a bit more), and her live performances have an urgency that resembles a call to arms, rather than just a recital. But this time around, much of that has been swapped for a more intimate and personal piece.
Ahead of the album's release, Tempest billed this as her most hard-to-produce work, which actually predated ...Chaos, and it does sound like it—for better and for worse. Every word feels delicately placed, and maybe it was the experience of producer Rick Rubin that gave her the confidence to pursue a less-is-more approach.
This more spare sound proves to be a difficult balance. Most of the songs flow into one another, creating a 45-minute living poem that encompasses every emotion. At its best, there are moments where it's difficult to turn-off (Keep Moving Don't Move and Brown Eyed Man are early highlights), as Tempest swaps writing about characters to writing about herself. That being said, without much sonic variation it may prove too dense to listen to as a whole without leading the mind to wander.
There are moments that pull you back in. Hold Your Own is a beautiful pep-talk that calmly urges us to stop pursuing the person we think we should be, while Firesmoke proves another album highlight that Tempest describes as a "cleansing moment" for both the album and in her life. It's a gorgeous love song about her partner and a relationship that has changed everything. Towards the backend of this heavy record, there's a poignancy in asking, "Is this how it feels to feel certain?"
But the record's biggest impact is saved for the closer, People's Faces— and Tempest knows it. The song has had cult success since its live debut, and lines from the song are teased throughout the album. It is beyond just the ace up her sleeve on this album, but of her whole career to this point.
When asked in an interview with the Telegraph if she was optimistic about the future she responded, "How can you be? I live here, I'm in this, this is my time. It's obvious we are approaching the end of a particular phase of our humanity." But she does offer an alternative, a chance to reshape our priorities and put people ahead of our search for individual success. She describes the mist—the rent-hikes and pay freezes, the disasters and the greed that led to them—but then reminds the listener that there is something beyond that.
There's nothing new here, but it's a strange feeling of someone else repeating back what you've probably been thinking. Tempest acknowledges she's not saying anything revolutionary, but that doesn't mean it's not worth saying. And by the end, it's difficult not to be convinced that there is something better on the horizon.
It probably says something about Tempest that her most personal album is much more about trying to foster community rather than any kind of self-prophesying. It might ask for more attention than most hip-hop albums this year, but for the most part, it rewards a listeners' patience. Whether you think she's preaching to the choir or an important voice, it's difficult not to agree with how she describes herself: "Neat with no chaser - all spirit."
8 July, 2019 - 12:09 — Matthew Smith