Music Reviews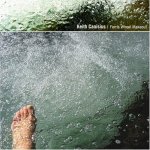 Keith Canisius Ferris Wheel Makeout
(Quince Records)
Buy it from Insound

There's something special about shoegaze that's endeared it to a worldwide audience, so it comes as no real surprise that the range of locations in which these musicians reside is wide and varied. Keith Canisius, a gazing musician from Denmark, is no exception.

Maybe it's the reverb-affected vocals that allow the international performers a greater chance to make some sort of impact. The ethereal sensation invoked by standard shoegaze and dream pop vocalizations is enough to obscure even the most pronounced accent, lending a sense of placelessness to the music.

So it is that Canisius, a Dane, can produce music that even the fairly xenophobic won't question. This, I would imagine, is not his goal, but merely a side effect of writing something that can slot into the genre — which is not to say that Ferris Wheel Makeout is in any way boring or usual.

No, this is an album that includes its fair share of variety and makes some notable contributions to the world of music. Canisius's electronically involved shoegaze and dream pop isn't just a typical genre piece, but a nice exploration of sonic texture in a shoegaze setting. The addition of strong electronic elements doesn't do anything to take away from this idea.

Ferris Wheel Makeout is an album that would be at home between Loveless and Souvlaki. Sure, Keith Canisius might not revamp the shoegaze world in the way some of the giants did, but he does create evocative music that can stand up to criticism in ways that much of the standard shoegaze material cannot.

Keith Canisius, who produced, wrote, performed, and programmed the album — though Jonas Munk of Manual did assist him in some drum programming and electronics, as well as post-production and mixing — might be better known for his role in Danish dream pop duo Rumskib. If this is anything to go on, however, he might have a fruitful career producing this electronically infectious shoegaze.
8 September, 2008 - 20:26 — Matt Montgomery