Music Reviews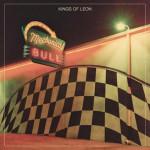 Kings of Leon Mechanical Bull
(RCA)
Buy it from Insound

The natural consequence of too much popularity can many times lead to misinterpretation. The Followill brothers have had to deal with this ever since they had a public meltdown at a show in Dallas in 2011, in which lead singer Caleb made his exhaustion audible due to having strained vocal chords. Such an event had them marked by new fans and naysayers alike as petulant brats who had somehow lost their way, as if some kind of voodoo was worked on them for having abandoned their southern twang beginnings.
It certainly wasn't the best of times for Kings of Leon, who found themselves coasting on the major success of Only By the Night with follow-up Come Around Sundown, a safe, hookless record with a voluntary dismissal to avoid any openly misogynistic anthems even if it was rightfully designed for stadiums. And everyone was sneakily suspicious about which turf they wanted to settle on - those who glorify miry, rambling rock had banned them for life, while those who are informed by luxury car-sponsored modern rock were confused by the lack of a major chorus, those thoughts solidified in literal form by an army of birds that shat at them on stage.
It's no wonder that the Nashville-bred foursome declare in the sweetly cadenced Walk a Mile, "the comeback story of a lifetime," in which Caleb jestingly remarks on those who had written them off after all the "false" turmoil. Because going by what they've stated on record, there was never any friction between any of the band members, which sounds like another case of the media taking the liberty to magnify a quarrel that never was. If anything, we're doing them a favor by mythologizing another chapter of their career; in those terms, who wouldn't want to self-profess their return to the stage as a comeback.
When it truth, Kings of Leon are simply trying to recapture their essence as a unit. They're not necessarily discrediting the records that increased their listenership tenfold; if anything, they're handpicking the finer points of their body of work and repackaging them with a polished, sleeker sound. First single Supersoaker does just that with a galloping thrust reminiscent of The Bucket, operating at a faster tempo as its chiming guitars light on and off with a heightened level of confidence. It gives a cheeky eye wink to their old fans before the glammy veneer of Rock City teeter-totters with a leisurely stomp taken straight out of Mambo Sun.
While Rock City stinks of foul debauchery, something you'd expect they'd outgrown by now, they quickly dust off the swagger with a string of ballads that range from crowd-pleasing (pouty unrequited confessions) to the more personal ones about being away from home (songs about longing and desire afresh). The unctuous pop rush of Temple comes out of left field with its Cure-like guitar dynamics, while the reverb drenched arpeggios of Wait for Me finds them at their most refined and affectionate. They're meant to soar with that unbridled, starry romanticism of U2, but their gestures are devoid of the surging, mushy crescendos or whoa-oh backing vocals found in Only By the Night.
Mechanical Bull is not without its share of flukes, some of which can be attributed to them re-embracing disciplined guitar heroics. The kerosene-fueled Don't Matter is built around a simple, crunchy riff that should brighten the modern rock charts despite its trite lyrical approach, but that's about as exhilarating as it gets. They quickly revert to the bland, soulless Beautiful War, which reeks of arena grandeur posturing as it chugs along quietly without cultivating a compelling atmosphere. And the sumptuous delayed guitar in Coming Back Again is agile and propulsive, and even has a garage rock sensibility, but not before its thwarted by a hammy refrain that comes close to Steve Perry territory.
Kings of Leon claim that Mechanical Bull harkens back to an earlier period of their career, and in a way it's accurate, since most of the songs are wrapped around a playfulness that's informed by the shadows of the past of classic rock n' roll. They're still suckers for echoing hooks and the kinetic pulse of garage, it's just that they're masqueraded with a glossier sheen and a harder edge. It's the ballads that have changed the most, which boast the swirling astral currents of The Bends-era Radiohead. This is them trying to finally pull away from the cocoon phase, a process that got delayed after they couldn't quite appraise their old habits and new choices. But for the first time in a while, they're moving forward with a sound truer to their nature.
29 September, 2013 - 04:51 — Juan Edgardo Rodriguez