Music Reviews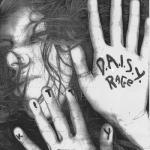 Kitty D.A.I.S.Y. Rage EP
(Self-Released)
Buy it from Insound

In the world of Tumblr rap, sometimes things can go very wrong. Artists like Riff Raff and Lil Debbie take things way too seriously, producing high gloss videos underpinned by turgid and embarrassing attempts at rapping. The best efforts in this relatively new movement embrace the playful side of life, papering over a lack of rapping ability with wit, individuality and more pop culture references than an episode of Community. Lil B is the leader of the pack in this sense, his twisted logic and misguided sense of deity providing a strangely fascinating draw to his rapidly growing output.
Kitty (née Kitty Pryde) is clearly a child of this movement, starting off her career uploading videos to YouTube of herself rapping pre-written lyrics over Madvillain beats. The ambiguous age she presents contributes to her innocent side and appeal, feigning disgust at any mention of drugs in bleak contrast to the usual rap cornerstone of boasting about your colossal narcotic intake and being stoned all the time.
D.A.I.S.Y. Rage, her second EP, opens with UNfollowed, where Balam Acab-like aqueous soundscapes compete with whimsical Disney reminiscent samples repurposed into hip-hop form. Lyrically, Kitty keeps it simple, rapping sweetly about the usual teenage issues of boy problems, obsession and feelings of inadequacy, which represent the cornerstone topics present here.
☠DEAD❤ISLAND☠ is the obvious highlight, Kitty's saccharine voice perfectly matched to the underlying dreamy soundscape. Her rhymes fade into the blissful and hazy production, backed by the propulsive dancehall beats of Major Lazer's Pon De Floor. Unfortunately, it's all over too quickly, fading out close to the 2 minute mark to segue into her stream of consciousness collaboration with Lakutis, who on the first guest spot ultimately contributes very little. Antwon's appearance on Scout Finch Bitch somewhat goes against the laid back cloud rap grain on the rest of the EP, his relatively gruff voice contrasting harshly with Kitty's hushed vocals and providing something of a shock to the system over sliced up DSOTM-era Pink Floyd samples.
R.R.E.A.M., a pastiche of the Wu Tang classic, rides over glitchy synths that seem to recreate motion sickness, and as such is the hardest song to listen to on the entire EP. This is despite her clever reworking of one of the most famous mantras in hip-hop, rash rules everything around me, getting drowsy, bena bena dryl yahl. It's a novel prospect singing about antihistamines for their intended use rather than their usual combination with codeine to get high, and is yet another example of Kitty cleverly mining her innocent and relatively youthful age for comedic effect.
There's nothing ground-breaking on this EP, but that's hardly to be expected. Kitty is clearly just having fun enjoying her time in the spotlight here, and for that it's an enjoyable and endearing effort.
14 February, 2013 - 04:08 — Richard Petty