Music Reviews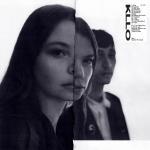 Kllo Maybe We Could
(Ghostly International)

It's difficult to make music that is almost exclusively downtempo connect with listeners. It's only through excellent songwriting or unique features that an album stuck in the same gear can really stand out. Unfortunately, Maybe We Could by Kllo has trouble grabbing attention. The duo of Chloe Kaul and Simon Lam specialize in electro-pop tunes that mix digital beats with muted keyboards and hushed vocals. While there is some good work here, the record struggles to stand out as more than background music.
Once you listen to the opener, Cursed, you've basically heard a good portion of the album. The song starts with skittering, underwater percussion and vocal samples to craft the rhythm, over which Kaul sings gently and washes the track in a wave of 80s soundtrack synths. The muffled music works well with lyrics like "Head's underwater, couldn't find you all night/It's not like you to be out there," but the vocal tics in the rhythm distract from her delivery. Still Here… basically does the same that the first track did. It's another blend of vocal tics and digital drums, over which Kaul sings and plays piano chords.
And so it goes for a few tracks here. My Gemini doesn't bring anything new, except for unnecessarily distorting Kaul's great voice. Somehow includes subtle string plucking as a delightful new flavor to the album, but it's too buried to save this by-the-numbers song. The same goes for Just Checking In, which has shuddering strings rub up against an off-kilter beat. There are even atmospheric synths that sound like a heavenly choir, but the track doesn't do much with these fresh elements.
Often, these tracks have a mismatch between fidgety beats and balladesque piano and vocals. When the rhythm slows down to better align with what Kaul is playing and singing, the results are a marked improvement. Over a glacial pulse, Ironclad's synths bubble like a swamp, with a woozy, dark vibe. As Kaul sings out, "Sunshine on my shoulders/Drinking soda and lime" over this melancholy landscape, it serves as a counter to her troubled state of mind, where she tries to convince herself that she can make this relationship work. Insomnia is buoyed by a killer hook for the chorus.
The title track uses a repetitive vocal sample from Kaul herself, making it a key component rather than extraneous background. A fragile guitar line represents the strained relationship that Kaul is in, as she sings, "I've had it up to here/And I've barely stepped out." But the backing vocal echoes "And push on, maybe we," giving some resilience to offset her frustration. It's one of the best songs on the album.
On the other hand, A Mirror is nothing but repeating vocal patterns by Kaul, with quickly plucked strings and handclaps beats. It's a unique track, at least for the first minute. But for some reason, this song is the longest one here. This piece should be an interlude at best—not a five-minute journey that goes nowhere. It absolutely obliterates the momentum built in the second half.
As an album, Maybe We Could leaves a lot to be desired. There are some appealing songs here that deserves to be on a Spotify playlist or in a chill lounge environment. However, they struggle to stand out next to subpar material over the course of a full-length record. There are lots of alluring instrumental pieces that show potential, but Kllo treats them as decorative rather than core aspects. Breaking out of their formula and changing up the tempos could do wonders for the duo going forward.
5 August, 2020 - 21:49 — Joe Marvilli