Music Reviews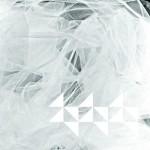 Korallreven An Album by Korallreven
(Acéphale)
Buy it from Insound

Shrouded in mystery, Swedish electronic duo Korallreven released a series of succinctly titled mixtapes representative of the kind of resonance they wanted to implement into their carefully constructed sound. Bearing no explanation except emphasizing the word "dream" in all three, it appears their modus vivendi is that of senseless escape, in that what begins as a process of twiddling modified loops ultimately becomes an experience in itself. We've all partaken in the activity of dreaming, so what better way to visualize it than to thematically present it as literal as its titles perceptibly imply.
Still adverse to the practice of naming, Marcus Joons and Daniel Tjader (of Radio Dept. fame) come to the fore with a clearer sense of what they have to offer. They stoically refer to their ten tracks as an album by themselves, so should it be taken as some sort of slur on their part to lessen the conceit of making a conceptual framework? Generally, the average listener skims through the album notes without aspiring to gain a greater sense of understanding. It makes sense to assume that Korallreven are about delivering an aural experience in the now, especially when dreams are particularly vivid for only a short amount of time.
Those familiar to Korallreven will find little surprise in the fact that almost half of the tracks are exact replications of their earlier singles – the gentle wind chimes in Loved-Up open the track in anticipation of what becomes a soothing embrace of ethereal vocals and digital percussion. And there's nary a reason to blotch the warm, tropical textures of Honey Mine, in which Victoria Bergsman lends her velvety vocals to the mix. These hardly detract, and actually illustrate an opportunity for the pair to bring an added sense of purpose to the album's vernal ambience.
Sweden has recently seen a spurt of sprightly pop groups, Korallreven fitting quite well in the scene. But their technical skill and constant ambivalence between thin electronic bleeps and imaginative layers puts them in a place where they can freely cope with accenting the conventional. The playful, classic dancehall spirit of The Truest Faith takes from the ancestral bones of ABBA as much as it does the Tough Alliance. The pair strikes gold early, though – inspired by Joons' trip to the South Pacific Island of Samoa, Sa Sa Samoa gradually raises Julianna Barwick's beatific cry until a pumping throb clashes with a Catholic choir to elevate it into divine submission.
An Album assembles all the loose threads from previous bursts of inspiration to sequence a scenic panorama to get lost into. Unlike electronic musicians trying to make something important, Korallreven design a sound that's explicitly unvarnished, meant to be enjoyed in a casual, leisurely way. Its design is rather tricky – each individual track is so fully formed that it makes sense to cherry-pick them in a playlist shuffle, as much as it holds a tacked on pattern for those who want to play it all the way through. So they don't waste time with the fine print for a reason – just pop it in, pop out the cork, and make it up as it goes along.
24 November, 2011 - 20:16 — Juan Edgardo Rodriguez